List of recipes using Spices for couscous:
5 recipes
List of recipes using Spices for couscous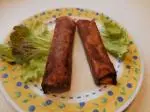 In this recipe, the brik (or filo) rolls are filled with fried minced meat, flavoured with cous-cous spices, garlic and onion.
43K
5
37 min. June 3
rd
2015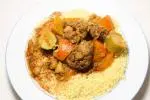 In couscous, the meat and vegetable mixture is rather long to cook, but not difficult. And the couscous itself (a kind of coarse semolina) is simple and quick to prepare.
442K
4.3
2 hours 36 min. November 16
th
2017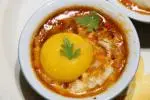 This spicy, ratatouille-style tomato and onion purée can be eaten on its own or to accompany other dishes. Here, I've baked it in individual ramekins, topped with an egg. This recipe originated in North Africa and has spread all around the Mediterranean.
15K
5
1 hour 38 min. January 19
th
2020

Chorba is a spicy meat and vegetable soup, typical of the Maghreb. This is my own personal version.
115K
5
2 hours 8 min. May 4
th
2012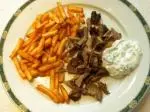 The kebab is a way of cooking meat that originated in the Middle East (the word means grill or grilled meat in different languages). The doner kebab is made up of slices of meat skewered and grilled vertically. The Turkish version is traditionally served with a yogurt and herb sauce in bread and/or...
287K
1
5
2 hours 32 min. May 20
th
2015