List of recipes using Rice:
6 recipes

(lactose free)

List of recipes using Rice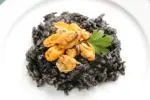 The famous Spanish arroz negro (black rice) is prepared by adding squid ink towards the end of cooking. This gives the rice not only its curious dark colour, but delicious marine flavours. In this recipe it forms the bed for mussels, cooked simply and served out of their shells – a perfect...
21K
1 hour 10 min. January 30
th
2019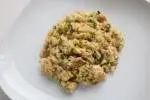 For this "chicken with rice", the rice is cooked using the pilau method (started on the hob, finished in the oven), but with chicken cooking juices as the liquid to add plenty of delicious flavour. Pieces of cooked chicken are then added. This version also has chopped and lightly fried leeks.
31K
4.1
56 min. January 29
th
2017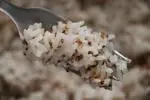 Sesame rice is a simple recipe: once cooked, the rice is dressed with a drizzle of sesame oil, then mixed with toasted sesame seeds. This delicious double sesame flavour makes it an ideal accompaniment for meat or fish.
8,480
19 min. November 17
th
2021

Paella is a traditional Spanish dish made with round rice, associated mainly with the Valencia region. The name comes from the large two-handled pan in which it is traditionally prepared. This is an adapted version with a mix of meat, vegetables and shellfish.
307K
4.1
2 hours 58 min. February 21
th
2011

This pea risotto recipe is finished with a typical Italian 'mantecare': mascarpone and Parmesan are incorporated at the end of cooking to make the dish incomparably smooth.
87K
4.9
1 hour 26 min. September 23
th
2012

Sushi is probably the best known element of Japanese cooking outside Japan. For the Japanese it's a culinary art learned over time from masters, but we can make simplified and easier sushi which are still pretty and delicious. The most common types of sushi are nigiri: a little oval-shaped mouthfuls...
299K
4.5
1 hour 38 min. October 13
th
2010