---
Stage 1 - 5 min.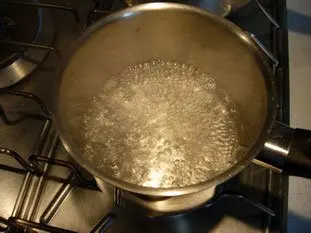 Cook 400 g rice (a
rice-cooker
is useful). Normally you should use Japanese round rice, but for this adapted recipe, it's not absolutely necessary.
Meanwhile, pour 150 ml rice vinegar into a pan, bring to the boil and add 1 tablespoon
salt
and 1 teaspoon
caster sugar
, stir to mix and remove from heat.
Equally, if you don't have rice wine vinegar, use normal vinegar instead, white or wine vinegar, (in which case your rice will take on a pretty light pink colour).
---
Stage 2 - 1 min.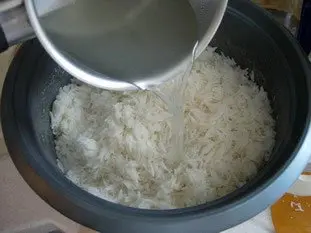 Pour vinegar onto rice and mix well.
---
Stage 3 - 5 min.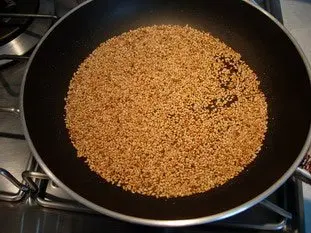 Cook 3 tablespoons sesame seeds in a frying pan without fat 4 or 5 minutes, stirring from time to time to roast (
torrefy
).
---
Stage 4 - 3 min.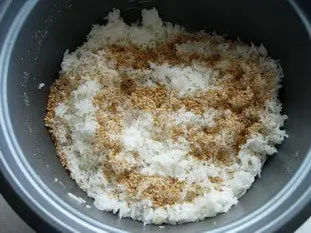 Mix sesame seed with half the rice to get two kinds: plain and sesame that you can use as you choose in the following recipe.
---
Stage 5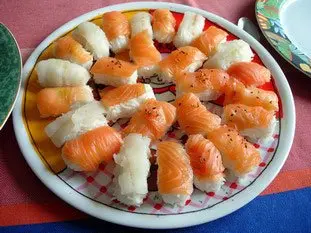 Nigiris :

Nigiris are little oval-shaped cakes of rice, usually covered with a thin layer of raw fish, but this can be varied in many ways.
---
Stage 6 - 5 min.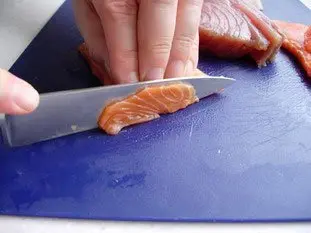 Cut your fish into wafer thin slices (see below on choosing your fish).
---
Stage 7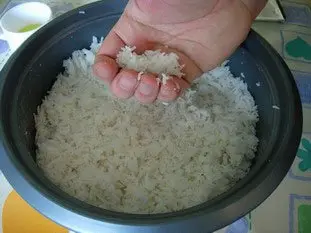 Make rice cake: take a little rice in your fingers...
---
Stage 8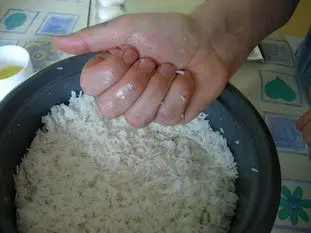 ...close your hand round it a few times to shape...
---
Stage 9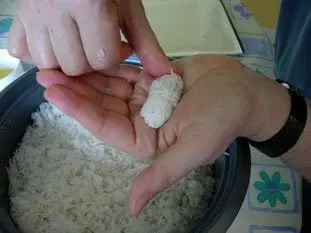 ... and tidy ends if necessary.
---
Stage 10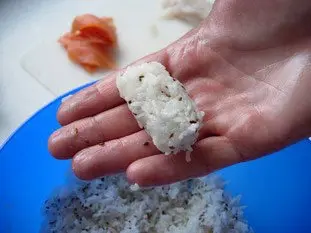 A rice cake with sesame rice.

Note: if rice sticks to your fingers too much, rub your hands with a few drops of oil from time to time.
---
Stage 11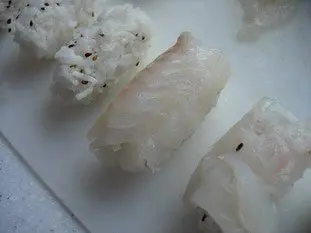 Put a thin layer of fish on top of rice.

The best way to do this is by sushi-factory production line, see below.
---
Stage 12 - 30 min.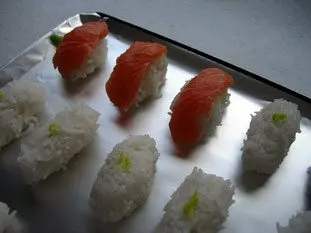 Before adding fish, you can add some wasabi.

Tip from Jeremy: mark this hot sushi with a discreet label like a sesame seed on top for example.
---
Stage 13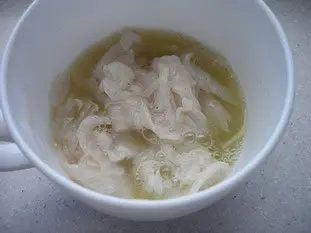 Nigiris can be filled with many other things rather than raw fish, here are some ideas, but also let your imagination and taste guide you.

Tahitian-style fish marinated 1 hour in lime juice with salt and pepper.
---
Stage 14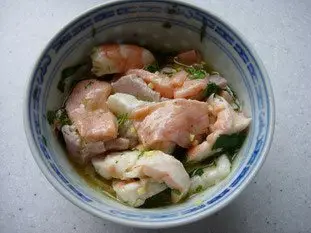 Thin layer of fish, prawns or scampi, marinated in a mix of olive oil, lemon juice and herbs.
---
Stage 15
Vegetables, cut into thin strips or leaves, raw or just blanched.

Smoked salmon or other smoked fish, etc.

yes you're right this is not sushi anymore (A restaurant in Paris is famous for its foie gras sushi), but it's still delicious, so why not?.
---
Stage 16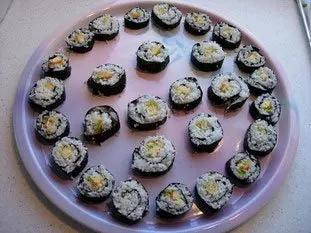 Makis:

Makis are sheets of nori seaweed filled with rice and other ingredients, and rolled up to produce a green roll, which is then sliced to give the individual maki sushi.
---
Stage 17 - 10 min.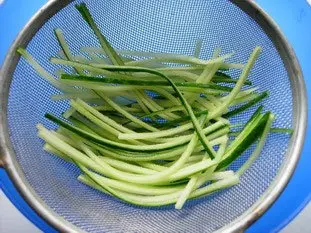 Cut your vegetables into small sticks, raw for cucumber...
---
Stage 18 - 10 min.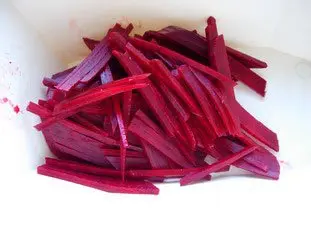 ... blanched or cooked for beetroot...
---
Stage 19 - 5 min.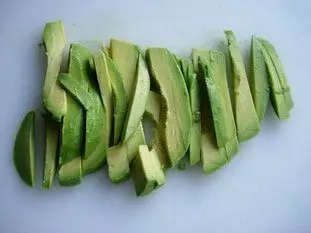 ...raw too for avocado.
---
Stage 20 - 5 min.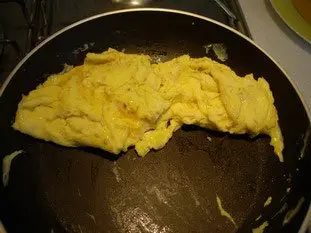 Beat 1
egg
with a fork, and cook in a frying pan to make a sort of small omelette.
---
Stage 21 - 5 min.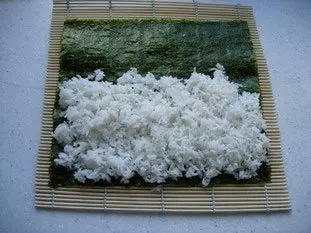 Put a nori sheet on a sushi mat (or if you don't have one, on a towel ).

Cover with rice over 2/3 of surface, not too thickly, about 1/4 inch or 1/2 cm.
---
Stage 22 - 5 min.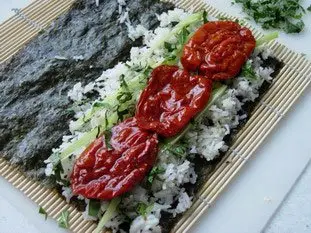 Put the chosen ingredients for your maki on the rice, here: cucumber, basil, and
tomato preserve
(recipe from Ann and Jeremy).
---
Stage 23 - 1 min.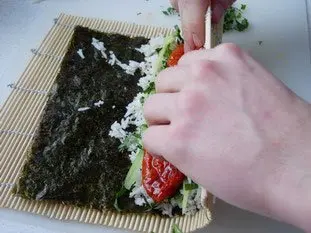 Raise mat to roll sheet on itself...
---
Stage 24 - 2 min.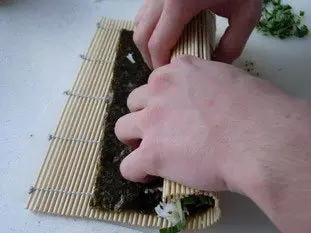 ...continue shaping by rolling tightly all the way...
---
Stage 25 - 1 min.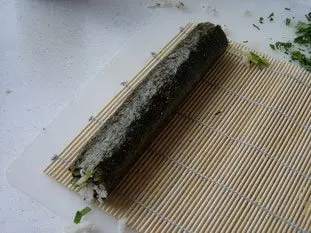 ...to the end.

Finish by leaving the edge of nori sheet under the roll.
---
Stage 26 - 2 min.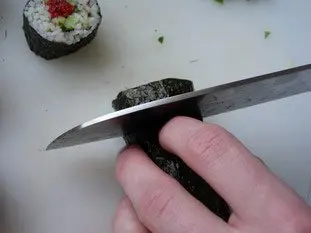 Cut roll into thick slices.
---
Stage 27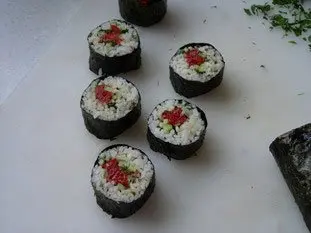 But not more than ½ inch or 1 cm.
---
Stage 28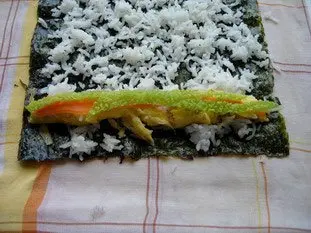 Another idea: strips of carrot, cabbage and omelette.
---
Stage 29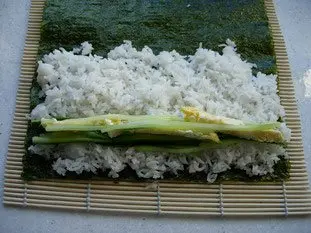 Cucumber and omelette.
---
Stage 30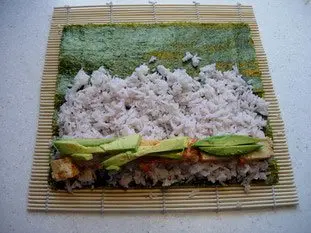 Avocado and marinated fish.

Let your imagination run wild.
---
Stage 31 - 3 min.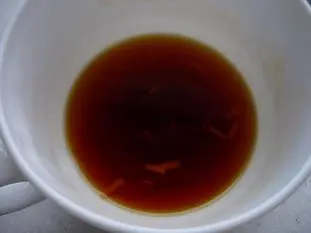 Make a quick sauce by mixing in a bowl 2 tablespoons soy sauce, 3 tablespoons vinegar, 2 tablespoons
water
, 5 drops Tabasco and a little grated carrot.
---
Stage 32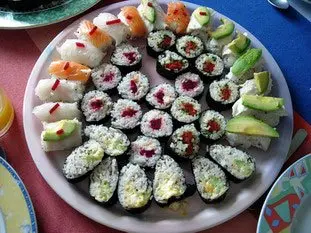 Serve if possible on large plates, arranging different nigiri and maki, as pretty to look as they are delicious to eat.