List of recipes using Cooked prawns:
6 recipes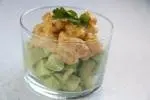 Just a classic prawn cocktail with avocado? Oh, no! The prawns in this recipe are sautéed briefly to enhance the flavour, then mixed with a curry mayonnaise.
8,010
4.3/5 for 15 ratings 30 min.

A very refreshing starter, containing prawns and smoked fish.
77,196
5/5 for 1 ratings 54 min.

These look like perfectly normal boiled eggs, but when the shell is cracked open - surprise! They contain a mixture of scrambled egg, cured ham, fried prawns and chives.
48,932
5/5 for 13 ratings 51 min.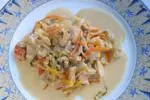 A "marmite normande" is a combination of different seasonal julienne vegetables and a mix of shellfish, rapidly sautéed, then deglazed with cider. The vegetables and shellfish are then simmered together in cream, which intensifies the flavours while it gently reduces and thickens. This recipe is...
4,245 2 hours 13 min.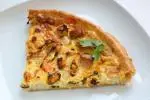 This quiche from Brittany has a puff-pastry base topped with an assortment of fish and shellfish with a classic quiche filling. After baking in a hot oven, the crusty pastry is a great foil for the moist filling with all its seafood flavours.
4,128 1 hour 40 min.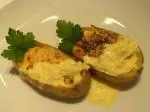 This recipe, originally from Belgium, consists of baked potatoes which are hollowed out and filled with fried prawns. A cream and white wine sauce is then poured over the potatoes before returning them to the oven.
30,941
3.8/5 for 12 ratings 1 hour 49 min.