List of recipes using Linseed :
6 recipes
List of recipes using Linseed

Small crisp parcels filled with cheese and linseeds, hot and crunchy on the outside, melting in the middle. They can be served with a light green salad.
118K
4.1
37 min. December 18
th
2011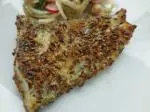 Fish fillets coated with a mixture of breadcrumbs and seeds, then fried.
65K
4.2
30 min. June 1
st
2014

Risotto is one of the great Italian recipes. It's the special way in which rice is cooked and mixed with several other things, which produces this famous dish. One can make different flavour risottos, here is a fairly simple recipe with diced vegetables and flax seeds.
229K
1
4.2
1 hour 49 min. February 21
th
2011

This is a kind of small crusty parcel with flax seeds, filled with a mix of red rice, diced courgette and smoked ham.
215K
4
2 hours June 12
th
2011

Little crusty bread sticks of Italian origin, these are delicious for aperitifs, plain or with dips like tuna rillettes, guacamole or houmous.
239K
4.2
2 hours 30 min. February 21
th
2011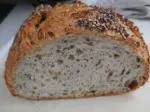 This seeded bread is based on a French baguette dough, with a mix of dry-roasted seeds added (poppy, millet, linseed, sesame...). Delicious on its own, this bread makes excellent toast to go with foie gras, adding an amazing complementary crunch.
113K
3.8
4 hours 27 min. October 24
th
2017