List of recipes using Agar-agar:
7 recipes

Blancmange is a very old dessert recipe, going back to the middle-ages. Updated for our century, it's almond milk with whipped cream and a smooth apricot puree.
106K
4.4
3 hours 14 min.

Vanilla-lime, confectioner's custard and blackcurrant coulis, topped with a layer of whipped cream (chantilly) and dusted with a little matcha green tea powder. Light and flavoursome.
59K
4.9
1 hour 9 min.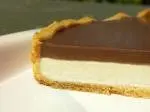 This Bounty-style tart combines, as you might expect, chocolate and coconut in a sweetcrust pastry case.
33K
1
4
1 hour 34 min.

You will no doubt be familiar with Bounty, the chocolate-covered coconut bar. Here's a melt-in-the-mouth version "on a plate" for a chic dessert.
44K
4.6
1 hour 54 min.

Pears cooked until soft in a red wine and blackcurrant syrup, served with the reduced syrup and custard sauce (crème anglaise).
83K
4.1
2 hours 35 min.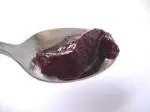 Fruit jelly is jam made with the juice only. All the skin and seeds are strained out, which gives a very smooth texture. Here's a quick recipe which will give you an excellent jelly, and which keeps the full flavour of the blackberries thanks to its very brief cooking.
53K
4.3
47 min.

Stewed pears are not as easy to prepare as stewed apples, as they contain more juice and you risk ending up with more of a coulis than a compote. So here are two simple methods to help you succeed.
33K
4.3
37 min.