List of recipes using Pearl sugar:
10 recipes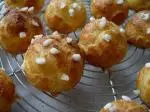 Chouquettes are small choux puffs with sugar crystals on the top. They are usually eaten plain, but can also be filled with a variety of things: cream, fruit, chocolate... whatever you like.
195K
4.8
1 hour 25 min. September 10
th
2018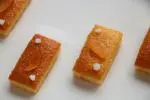 The french love their "moelleux" — moist fondant cakes, often with a melting centre. These little mini-moelleux are flavoured with grapefruit. The grapefruit flavour is brought out fully by using a combination of juice, zest and candied peel.
24K
5
1 hour 7 min. March 24
th
2019

Liège waffles have a very distinctive texture: quite dense with the crunch of sugar crystals. They also have a characteristic form: round and fairly small. Then there's that special flavour that comes with the delicious light caramel crust.
223K
5
1 hour 55 min. July 12
th
2011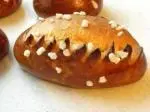 This sweet milk bread, made as baps or rolls, with its sugar topping is delicious for breakfast or with afternoon tea.
157K
1
3.8
5 hours 31 min. September 11
th
2018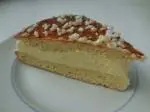 This famous dessert from St Tropez is more of a cake than a tart. The sugar-sprinkled brioche layers are sandwiched together with a rich vanilla filling which is a mixture of confectioner's custard and whipped cream.
77K
3.8
3 hours 34 min. September 11
th
2018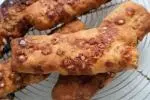 This curious name (explained below) applies to a small bread fingers made with a blend of wheat and rye flour, enriched with raisins and almonds.
21K
4 hours 32 min. February 4
th
2018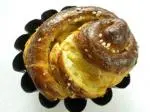 For brioche feuilletée (or flaky brioche), the brioche dough is treated like puff pastry, with layers of butter incorporated by repeated turning and rolling. Coarse sugar crystals add a sweet crunchiness. Needless to say, this is very rich and quite irresistible.
94K
2
4.6
3 hours 49 min. November 10
th
2013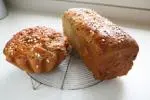 Cramique is a kind of brioche from Belgium and northern France, made with raisins and pearl (or nib) sugar. It is traditionally served sliced with butter and jam.
33K
13 hours 55 min. September 12
th
2018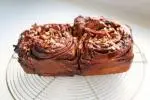 This beautiful brioche contains the typical ingredients you'd expect in a brownie: chocolate, butter, brown sugar and pecan nuts. But these are not just thrown into the mixture; the brioche is layered with them to create a delicious culinary bridge between Europe's viennoiseries and the all-American...
27K
4.3
16 hours 43 min. September 12
th
2018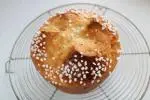 Mouna is a delicious citrus-flavoured brioche from the Oran region of Algeria. It origins are much disputed, but it was no doubt inspired by a brioche brought over by Spanish immigrants from the Valencia region: the "Mona de Pascua". However, it is also amusing to remember that the citizens of Oran...
27K
1
18 hours 31 min. May 22
th
2019