List of recipes using Sweet chestnut purée (crème de marrons):
4 recipes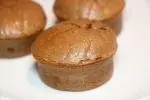 This recipe allows you to enjoy a delicious brownie-style combination of melting fudgy texture and cake, with the distinct flavours of chocolate and chestnut purée.
6,689
5/5 for 1 ratings 53 min.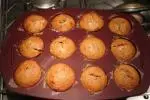 "Moelleux" means soft, and is also the name given to the gooey, soft-centred cakes that are popular in France. These muffin-style cakes are doubly chestnutty: there is chestnut purée in the mixture and pieces of marrons glacés (candied chestnuts) in the middle as well. The result is a little...
3,619 1
5/5 for 1 ratings 1 hour 13 min.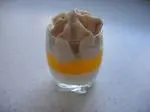 This is a fresh-flavoured verrine with 3 different flavoured layers: vanilla panna cotta, clementine and chestnut mousse.
58,905 1
5/5 for 1 ratings 25 min.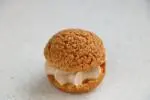 These mini choux puffs are topped with a layer of craquelin and filled with Mont-Blanc cream: a mixture of whipped cream and sweetened chestnut purée.
954 1 hour 43 min.