How long does it take?
Time required for this recipe:
| Preparation | Start to finish |
| --- | --- |
| 9 min. | 9 min. |
---
Remarks
It is important to strain the mixture in
stage 3
to avoid blocking the whipper siphon, so do take care at this stage.
Keeping:
Several days in the fridge, in the whipper.
Nutritional information
Whole recipe
Energetic value
Proteins
Carbohydrates
Fats
575 Kcal or 2,407 Kj
4 gr
71 gr
31 gr
29 %
2 %
7 %
5 %
Per 100 g
Energetic value
Proteins
Carbohydrates
Fats
288 Kcal or 1,206 Kj
2 gr
36 gr
15 gr
14 %
1 %
3 %
2 %
% are calculated relative to a Recommended Dietary Intake or RDI of 2000 k-calories or 8400 k-joules by day for a woman (change to a man).
Some recipes that use this recipe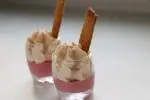 Blackcurrants and chestnuts and go together really well, as the tang of the one balances the gentle sweetness of the other. Here they are combined in a verrrine, with a blackcurrant crémeux and chestnut mousse, served with a little sablé biscuit.
7,597
1 hour 9 min.
See all recipes that use it
Source
Home made.
More recipes?
This recipe uses (among others)
| | |
| --- | --- |
| | Sweet chestnut purée (crème de marrons): You can check-out other recipes which use it, like for example: Mini Mont-Blanc choux puffs, Chestnut and hazelnut biscuits, Chestnut moelleux, Chestnut Fudge Cupcakes, Little vanilla, clementine and chestnut verrines, ... All |
| | Liquid cream: You can get more informations, or check-out other recipes which use it, for example: Eggs "en cocotte" with spinach, Creamy risotto with vegetables , Fresh spinach with cream, Apple custard tart, Beurre blanc sauce, ... All |
Other recipes you may also like
News list of cooking-ez.com
Sign up to receive the latest recipes (next batch due to be sent on 2021-08-01)
Note: We'll never share your email with anyone else.
Follow this recipe
If you are interested in this recipe, you can "follow" it, by entering your email address here. You will then receive a notification immediately each time the recipe is modified or a new comment is added. Please note that you will need to confirm this following.
Note: We'll never share your email with anyone else.