List of recipes using French baguettes:
3 recipes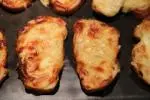 For an aperitif snack with a difference, try these little toasted slices of baguette topped with cheese and mustard. Easy to make and can be served in a jiffy.
940 24 min.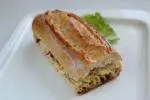 The filling for this indulgent baguette sandwich is made with hard-boiled eggs and cold meat in a rémoulade dressing.
1,257 18 min.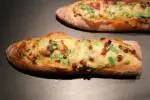 This baguette is "stuffed", rather than merely filled: hollowed out and refilled with a tasty mix of sautéed onions, fried bacon bits and eggs, before browning in the oven. A useful way to use up a leftover baguette, even if it is already going dry. It makes a great dish that children love, and...
2,933 52 min.