List of recipes using Unsweetened coconut milk:
5 recipes

This is a sort of smoked chicken, cooked in a tomato-coconut sauce, and served with kidney beans and plain rice. It's quite a simple recipe, with ready-made ingredients, but which needs a long cooking time on low heat (one hour).
84,675
5/5 for 11 ratings 2 hours 4 min.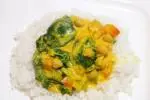 A mix of vegetables (pumpkin, leek, chickpeas...) cooked in coconut milk and curry spices. Serve this dish with rice, preferably basmati, for an authentic touch.
1,902
5/5 for 2 ratings 57 min.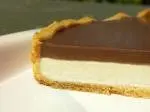 This Bounty-style tart combines, as you might expect, chocolate and coconut in a sweetcrust pastry case.
32,166 1
4/5 for 1 ratings 1 hour 34 min.

A dessert in three layers: a first of smooth vanilla cream, a second of coconut cream (also very smooth), and to finish, a thin crunchy layer of coconut tuiles. In the spirit of crème brulée: break through the crisp surface layer to discover the smooth melting coconut and vanilla creams beneath. A...
72,203
3.8/5 for 17 ratings 4 hours 58 min.

You will no doubt be familiar with Bounty, the chocolate-covered coconut bar. Here's a melt-in-the-mouth version "on a plate" for a chic dessert.
43,569
4.6/5 for 19 ratings 1 hour 54 min.