List of recipes using Morbier cheese:
4 recipes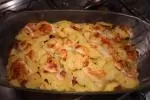 This version of Gratin Comtois begins like the classic gratin dauphinois, but uses Morbier cheese, and diced Morteau sausage for a hint of smoky flavour. There's no denying it, this is a rich and hearty dish!
833 1 hour 13 min.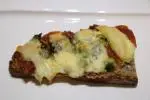 In this recipe, we'll be using just the tops of the onions, lightly fried, combined with fried ham and thinly sliced Morbier cheese..
2,707 38 min.

A recipe from Franche-comté (lovely region of eastern France): large slices of bread coated with melted shallot, grilled bacon dice, a big slice of Morbier (cheese from the same region) and a brief spell in the oven. It really is a winter dish.
79,713
4.6/5 for 14 ratings 1 hour 45 min.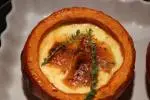 The small squash used here is the Japanese chestnut pumpkin or "potimarron". For this gratin, we scrape out the seeds and fill the centre with a mixture of three sorts of cheese and cream, then bake it in the oven until the pumpkin flesh is soft. Served straight from the oven like this, it is good...
9,255
4.1/5 for 16 ratings 53 min.