List of recipes using Fish:
9 recipes
List of recipes using Fish

Fish cooked in a salt crust is simply baked in the oven, surrounded and completely covered by a layer of coarse salt. This allows the fish to cook gently and it should be eaten as soon as the salt crust is opened. In this version, it is stuffed with lemon and herbs. Using a thermometer is the best...
149K
3.8
1 hour 8 min. January 29
th
2012

Fish portions cooked in 2 stages: first in the pan, then in the oven, covered with a sesame paste which turns crisp when baked.
140K
4.4
42 min. February 28
th
2012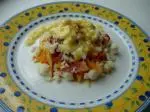 This recipe consists of delicate flakes ("petals") of poached fish, cooked with smoked ham, served on a bed of julienne vegetables (fine sticks of carrots, turnips and cabbage), with a "beurre blanc" sauce made with vinegar and shallots. Not difficult, but entails some work.
240K
4.3
1 hour 34 min. December 31
th
2013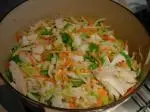 A julienne of vegetables (small sticks) mixed with choice morsels of fish, slowly cooked in vegetable stock.
291K
4.3
2 hours 36 min. December 31
th
2013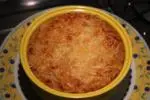 "Parmentier", in French cuisine, means topped or mixed with mashed potato. This fishy version is made with pollack (or another fish, if you prefer), poached, flaked, and mixed with cooked onions, mashed potatoes and a little thyme. This is then topped with grated cheese and browned in the oven,...
31K
4.8
56 min. October 1
st
2017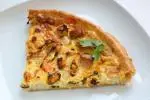 This quiche from Brittany has a puff-pastry base topped with an assortment of fish and shellfish with a classic quiche filling. After baking in a hot oven, the crusty pastry is a great foil for the moist filling with all its seafood flavours.
46K
1 hour 40 min. April 17
th
2022

The French version of sauerkraut (choucroute) is normally served with meat, especially pork and sausage, but here is a seafood version with fish and shellfish. Do give it a try, as it's simple to make and delicious!
164K
4
1 hour 37 min. April 17
th
2011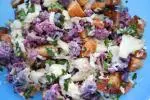 Not quite "surf and turf", but land meets sea in this salad which combines poached fish with cauliflower and buttery fried croutons.
34K
4.3
45 min. November 22
th
2017

Sushi is probably the best known element of Japanese cooking outside Japan. For the Japanese it's a culinary art learned over time from masters, but we can make simplified and easier sushi which are still pretty and delicious. The most common types of sushi are nigiri: a little oval-shaped mouthfuls...
312K
4.5
1 hour 38 min. October 13
th
2010