For
1 fish

, you will need:
Change for:
Measures:
How long does it take?
Time required
| Preparation | Cooking | Start to finish |
| --- | --- | --- |
| 38 min. | 30 min. | 1 hour 8 min. |
Keeping:
Should be eaten right away, less good if reheated.
At what time?
When will I finish if I start the recipe at a certain time?
When should I start for the recipe to be ready at a certain time?
Work this out...
---
Step by step recipe
---
Stage 1 - 8 min.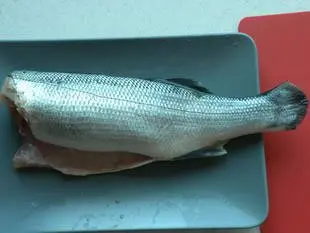 Prepare your whole fish (cleaned by the fishmonger, but no need to remove scales): wash the inside thoroughly to remove any traces of blood.

It is better to use a whole fish, but if this is not the case, as in the photos, you will see how to allow for this later.
---
Stage 2 - 3 min.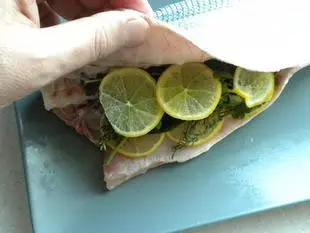 Dry the inside of the fish with
absorbent paper
and fill the cavity with thin slices of lemon and the herbs of your choice (parsley, thyme, bay, etc.). Pepper, but do not salt.
---
Stage 3 - 1 min.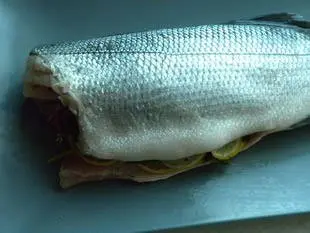 Close the fish well over the stuffing.

Preheat the oven to 180°C (360°F).
---
Stage 4 - 3 min.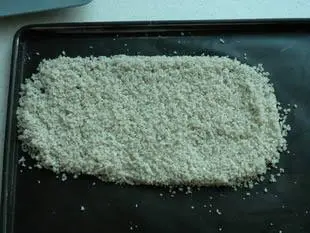 Spread an even layer of coarse salt ½ cm ( ¼ inch) a little larger all round than the fish on a
baking sheet
.
If you are using Guérande sea salt, this is easy to work as it is very slightly damp. But if you are using ordinary white coarse salt, I advise you to humidify it a little with a glass of water.
---
Stage 5 - 1 min.
Place the fish on the bed of salt.
If your fish no longer has its head, seal the end with a small piece of
aluminum foil
. It is important to do this, or your fish will be too salty.
---
Stage 6 - 1 min.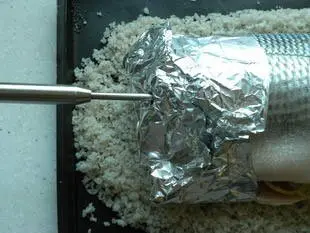 Insert the probe of the
thermometer
into the centre of the thickest part of the fish.
---
Stage 7 - 5 min.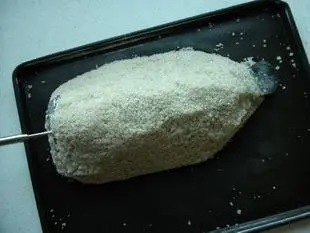 Then cover the fish completely with more salt until you can no longer see it (apart from the tail).
---
Stage 8 - 30 min.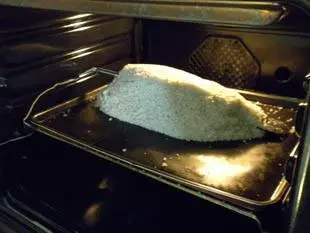 Bake in the oven until the thermometer reads 60°C (140°F), at which moment the fish will be perfectly cooked.
Heat the serving plates
.
---
Stage 9 - 3 min.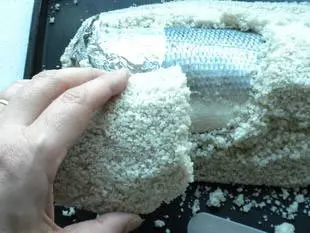 Break open the salt crust...
---
Stage 10 - 3 min.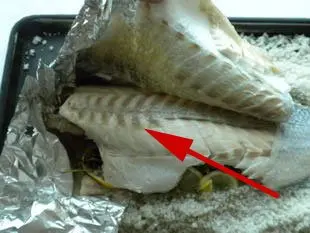 ...and lift off the fish skin, which should be easy to remove now.

If possible, scrape off and discard the brown part, indicated by the arrow, which is not good to eat.
---
Stage 11 - 10 min.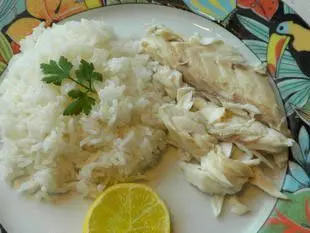 Remove all the flesh (watch out for bones) and arrange on the serving plates beside the stuffing.
Serve immediately with just a squeeze of lemon juice,
olive oil with herbs
, or a more sophisticated sauce, such as a
Béarnaise
.
Remarks
The choice of fish is up to you, depending on what you can find at your fishmonger's. In the photos I am using line-caught sea bass. Almost any fish will work, but salmon and sea bream are particularly good.
If you do not have a thermometer, your can calculate the cooking time by the weight of the fish: 1kg = 30 to 40 minutes cooking.
Nutritional information
% are calculated relative to a Recommended Dietary Intake or RDI of 2000 k-calories or 8400 k-joules by day for a woman (change to a man).
How much will it cost?
Note : These prices are only approximate
Source
Home made
More recipes?
This recipe uses (among others)
| | |
| --- | --- |
| | Coarse salt: You can get more informations, or check-out other recipes which use it, for example: Pickled gherkins, How to cook pasta properly, French bean salad with vinaigrette , How to prepare broccoli, How to prepare spinach, ... All |
| | Fish: You can check-out other recipes which use it, like for example: Seafood sauerkraut, Fish petals, vegetables julienne, and beurre blanc, Stock-pot fish , Pollack Parmentier, Warm autumn salad, ... All |
| | Lemon: You can get more informations, or check-out other recipes which use it, for example: Little vanilla, clementine and chestnut verrines, Lemon and lime cakes, Stewed plums, Salmon rillettes, Fresh fruit in sabayon, ... All |
| | Herbs of your choice: You can check-out other recipes which use it, like for example: Baked potoatoes with herb butter or cream , Avocado with gravlax, Mixed tomato salad, Lemony chicken and radish salad, Beetroot and cream cheese verrines, ... All |
News list of cooking-ez.com
Sign up to receive the latest recipes (next batch due to be sent on 2019-07-21)
Note: We'll never share your email with anyone else.
Follow this recipe
If you are interested in this recipe, you can "follow" it, by entering your email address here. You will then receive a notification immediately each time the recipe is modified or a new comment is added. Please note that you will need to confirm this following.

Note: We'll never share your email with anyone else.