List of recipes using Cucumber:
7 recipes

(lactose free)

List of recipes using Cucumber

Crunchy vegetables, pine nuts and rice with a rémoulade dressing.
136K
1
4.6
36 min. April 3
rd
2011

For this summer salad: slices of cucumber, morsels of smoked salmon, diced avocado and a little tuna, dressed in a herb mayonnaise.
161K
4.6
28 min. August 15
th
2010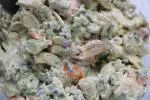 A bold salad idea that brings together 3 ingredients which rarely end up on the same plate: cucumber, avocado and mussels, in a rémoulade dressing.
20K
21 min. August 9
th
2020

Mixed salad is one of those simple but delicious summer recipes which go so well with a barbeque. It's a mix of several fresh vegetables, herbs and French dressing (vinaigrette).
273K
4.6
1 hour February 21
th
2011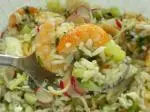 This salad combines contrasting crunchy ingredients (radish, cucumber, gherkins, onions) with the softer textures of cold rice and tomatoes. The oven-roasted prawns are addded hot. The salad is brought together with herbs and a vinaigrette dressing.
87K
3.5
1 hour 51 min. September 15
th
2013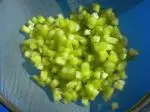 Or how to start with a whole cucumber and finish with small crunchy dice, ready to be added to a salad.
221K
4.5
39 min. August 6
th
2019

Sushi is probably the best known element of Japanese cooking outside Japan. For the Japanese it's a culinary art learned over time from masters, but we can make simplified and easier sushi which are still pretty and delicious. The most common types of sushi are nigiri: a little oval-shaped mouthfuls...
312K
4.5
1 hour 38 min. October 13
th
2010