List of recipes using Poached eggs:
9 recipes
List of recipes using Poached eggs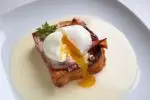 Eggs Arsène is a rather more rustic version (and definitely more Comtoise in style) of eggs Benedict , that indispensible breakfast dish in Ian Fleming's novels. And you're right, there is a nod to James Bond here.
28K
5
1 hour 2 min. October 25
th
2018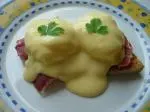 Soft-boiled eggs, served on toast with a slice of fried smoked ham, and the whole covered with Hollandaise sauce.
202K
4
1 hour 4 min. August 8
th
2018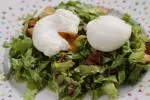 Salad lyonnaise conjures up the cuisine of the French city of Lyon and the region around: traditionally a salad of dandelion leaves with croutons, lardons and poached eggs. Here is a slightly simpler version with shredded lettuce instead of dandelions.
5,973
42 min. December 29
th
2021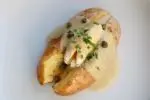 You will no doubt have baked potatoes the classic way, but here's a version inspired by Yotam Ottolenghi, served with a delicious tuna and caper sauce, and a poached egg.
16K
1 hour 16 min. September 27
th
2020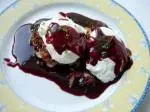 Eggs meurette or "œufs à la bourguignonne" is a great classic of French cooking, and of Burgundy in particular. It consists of poached eggs on a bed of fondue onions and bacon, served on a slice of fried bread. This is topped with a tasty reduced red wine sauce.
174K
1
4.1
1 hour 11 min. March 29
th
2020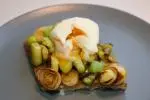 A slice of fried buttered bread with fried sliced leek, topped with a poached egg. For the best effect, split the egg open just before serving.
30K
4.8
31 min. September 18
th
2016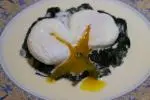 The combination of eggs with spinach is always a winner, but this recipe elevates it to another level with the original and delicious flavour added by the Comté milk.
4,635
1 hour 7 min. January 19
th
2022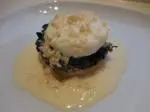 A "cake" of fried polenta, blanched spinach and a soft-poached egg on top, with a cream, shallot and white-wine sauce poured over just before serving.
52K
5
1 hour 11 min. June 3
rd
2018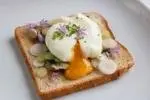 This is a French twist on that store-cupboard basic, sardines on toast: sardine fillets in oil and sliced spring onion, topped with a poached egg.
30K
4.7
15 min. June 1
st
2016