List of recipes using Gherkins in vinegar :
5 recipes
List of recipes using Gherkins in vinegar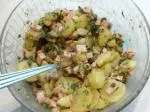 This bistro-style salad combines potatoes and gherkins with, of course, the famous cervelas sausage.
72K
4.4
54 min. December 5
th
2013

Little verrines filled with a mixture of cottage cheese (fromage blanc), cream and coriander with diced radish, gherkin and shallot.
115K
2
4.8
41 min. November 24
th
2011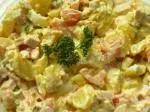 Piedmont salad is a mix of potaotes, tomatoes, hard-boiled eggs, gherkins and cervelas sausage dressed with mayonnaise.
236K
1
4.5
1 hour 19 min. September 29
th
2012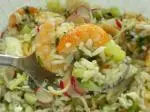 This salad combines contrasting crunchy ingredients (radish, cucumber, gherkins, onions) with the softer textures of cold rice and tomatoes. The oven-roasted prawns are addded hot. The salad is brought together with herbs and a vinaigrette dressing.
78K
3.9
1 hour 51 min. September 15
th
2013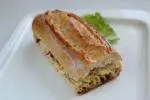 The filling for this indulgent baguette sandwich is made with hard-boiled eggs and cold meat in a rémoulade dressing.
15K
18 min. June 21
th
2020