List of recipes using Salt:
10 recipes

(lactose free)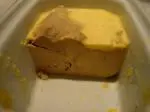 This a quite different preparation from the terrine of foie gras, this time it does not go in the oven, the liver is salted for 48 hours and it "cooks" (or cures) in this way.
74,391
5/5 for 11 ratings 2 days 16 hours 28 min.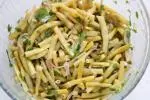 A very simple recipe for a salad of green (or yellow) French beans: The beans are boiled first, then thoroughly drained and served mixed with herbs, chopped shallot and a good vinaigrette (french dressing).
5,601
4.6/5 for 14 ratings 35 min.

Fish cooked in a salt crust is simply baked in the oven, surrounded and completely covered by a layer of coarse salt. This allows the fish to cook gently and it should be eaten as soon as the salt crust is opened. In this version, it is stuffed with lemon and herbs. Using a thermometer is the best...
29,726
3.8/5 for 17 ratings 1 hour 8 min.

In this recipe, the salmon is cured in coarse salt, then left to marinate in oil with herbs, spices, carrots and onions. Salmon prepared like this is served sliced thinly on a bed of potatoes.
34,497 4
4.6/5 for 11 ratings 1 day 38 min.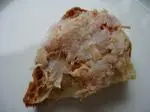 Potted meat (rillettes) is cooked long and slow in fat. Rillettes can be of pork or duck. Here is the pork version.
96,093 2
5/5 for 1 ratings 6 hours 46 min.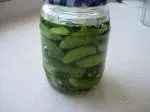 Preparing your own gherkins in vinegar is quite straightforward, if you know how to avoid a few pitfalls. Here's a recipe which works every time.
96,322 7
3.1/5 for 12 ratings 4 hours 36 min.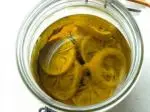 For this recipe, the lemons are sliced first (this makes them easier to use later), then salted to drain off the juice before being bottled in herb-flavoured olive oil. These preserved lemons can be used in all sorts of dishes, especially with fish and poultry.
20,882 1
5/5 for 13 ratings 12 hours 36 min.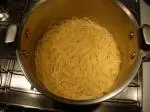 Here is some advice for pasta that's properly cooked and doesn't stick.
61,143
4.4/5 for 14 ratings 22 min.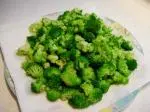 Broccoli are vegetable cousins to cauliflowers. Here's how to prepare them for using in a recipe.
60,795
3/5 for 2 ratings 35 min.

A very classic recipe, but which can easily fail due to two main errors: too much water in bottom of dish because endives give off a lot, and endives that are too bitter so that children hate it. Here is a method which avoids these two problems.
31,463
3.7/5 for 18 ratings 26 min.