List of recipes using Chicken:
7 recipes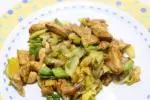 Chunks of chicken marinated in a mixture of soy sauce, vinegar and spices, then sautéed with diagonally cut leeks cooked separately. A simple, healthy recipe with a spicy kick.
2,778
5/5 for 1 ratings 1 hour 53 min.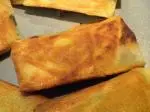 Roll of brik (or filo) pastry filled with chopped mushrooms, diced chicken and sautéd onions.
14,980
5/5 for 13 ratings 1 hour 6 min.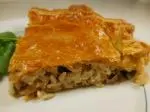 This lovely pie has a puff pastry crust filled with a mixture of fried mushrooms, diced chicken and parsley, all bound in a cream sauce.
15,324 1
4.4/5 for 16 ratings 1 hour 40 min.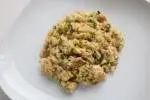 For this "chicken with rice", the rice is cooked using the pilau method (started on the hob, finished in the oven), but with chicken cooking juices as the liquid to add plenty of delicious flavour. Pieces of cooked chicken are then added. This version also has chopped and lightly fried leeks.
5,119
4.1/5 for 16 ratings 56 min.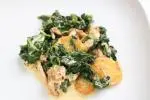 This recipe combines morsels of cooked chicken, spinach and potatoes with cream for a simple and tasty dish.
1,626 36 min.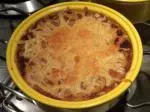 This recipe is very simple to make as everything can be prepared in advance. A layer of duck meat is sandwiched between two layers of potato purée. This is topped with grated cheese before being put in the oven.
24,135
3.9/5 for 12 ratings 51 min.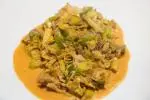 Indian flavours pep up this recipe. The leeks are cooked then mixed with chunks of chicken (a good way to use leftovers from a previous meal) and simmered with tandoori spices.
2,181 54 min.