List of recipes using How to prepare cockles:
5 recipes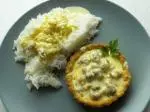 A small puff pastry tart case filled with cockles in a cream and egg-yolk sauce ("a la poulette" in French).
23,083
4.3/5 for 15 ratings 2 hours 52 min.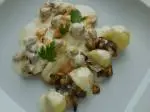 In principal, fillets of sole Dieppoise are poached and served with a creamy sauce and small shellfish. I am offering a new twist on the dish, with the fish sautéed rather than poached, a cream sauce flavoured with mussel stock, and served with shellfish (mussels, cockles and clams), mushrooms and...
8,796
3.9/5 for 19 ratings 1 hour 27 min.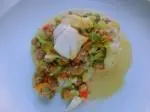 This ragout combines vegetables (cut small and cooked until just tender in vegetable stock) with a mix of cockles and chunks of fish, all simmered together with cream and saffron.
15,629
4.1/5 for 19 ratings 2 hours 17 min.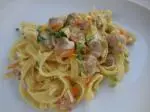 In this recipe, the cockles and pasta are prepared separately, then mixed with the sauce at the last minute. The cockles are first cooked quickly, then shelled carefully (I find it unpleasant to have to do this on the plate) and the cooking juices are used to prepare a cream sauce. The tagliatelle...
12,745 1
4.7/5 for 3 ratings 2 hours 16 min.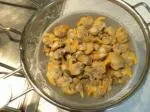 Cockles are small Atlantic shellfish which can be used in many delicious dishes. However, they need to be prepared with care before cooking. Here is a simple way to do this.
65,210 1
3.9/5 for 17 ratings 1 hour 52 min.