List of recipes using Chive flowers:
6 recipes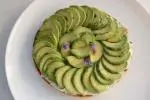 The French "tarte fine" (pronounced "feen") is a literally a thin tart, made on a precooked flat base of puff pastry. This delicious, crisp, savoury tart is topped with cream cheese, slices of avocado, a trickle of lime juice and fresh coriander.
13K
59 min. July 15
th
2020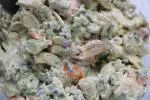 A bold salad idea that brings together 3 ingredients which rarely end up on the same plate: cucumber, avocado and mussels, in a rémoulade dressing.
9,273
21 min. August 9
th
2020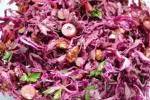 This salad has a lovely crunch to it: not just the red cabbage, but also from thinly sliced radishes and toasted almonds.
17K
28 min. May 26
th
2019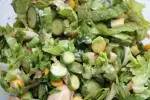 This salad is a way to make the most of the first baby courgettes (if you can get them). The crunchy little darlings are mixed with shredded lettuce, hard-boiled eggs, tinned tuna and diced cheese.
28K
25 min. June 5
th
2019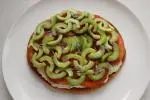 A fresh, summery tart with a thin base of pre-cooked puff pastry, spread with a cream-feta mixture, and topped with slices of tomato and cucumber.
3,444
51 min. July 18
th
2021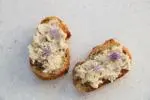 This recipe for mackerel rillettes (or potted mackerel) starts with poaching the fish. The flesh is then taken off the bones and forked into a seasoned mixture of butter, mustard, cream and lemon juice. In France this is traditionally eaten as an aperitif snack, served on small slices of toast.
20K
1 hour June 19
th
2019