List of recipes using Chicken or beef stock cube:
8 recipes

(lactose free)

Chicken breasts are slowly cooked in a frying pan, then the sauce is made in the same pan with dry white wine, chicken stock and tarragon, and served with sauté (pan-fried) potatoes.
73,465 1
5/5 for 2 ratings 1 hour 39 min.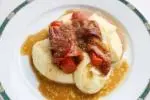 As with any confit, these carrots are cooked long and slow. This is done in the oven in chicken stock, with the carrots rolled in a strip of bacon or cured ham that has been lightly fried.
5,324
4.8/5 for 12 ratings 2 hours 32 min.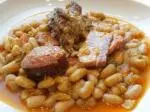 Cassoulet is typical, even emblematic, of southern French cuisine. It is a "slow food" casserole in which meat and vegetables, particualrly dried beans, are cooked together for a long time. Here is a simplified version of this famous dish.
27,833
4.1/5 for 16 ratings 16 hours 9 min.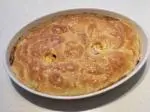 Apart from the obvious chicken, this pie's puff pastry "lid" also conceals mushrooms, bacon, hard-boiled eggs and leeks.
25,010
4.3/5 for 12 ratings 2 hours 29 min.

If you add a stock cube to a recipe, it's much better to not add it whole, because it will take a long time to dissolve.
32,022
5/5 for 1 ratings 2 min.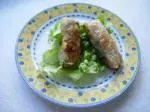 Nems are probably the best known Far Eastern dish in France. These small crispy rolls can be made in different flavours: chicken, crab, pork, etc. Making your own is not very complicated, the only difficulty is in the rolling stage. You will find in this recipe full details on how to successfully...
108,885
3.8/5 for 11 ratings 2 hours 21 min.

Minestrone is a traditional Italian soup. It is made with a mix of vegetables and a poultry stock. It is quite simple to make, but preparing all the vegetables takes time.There are doubtless as many minestrone recipes as there are Italian cooks, but here is my version.
41,659
4.3/5 for 15 ratings 3 hours 30 min.

Paella is a traditional Spanish dish made with round rice, associated mainly with the Valencia region. The name comes from the large two-handled pan in which it is traditionally prepared. This is an adapted version with a mix of meat, vegetables and shellfish.
80,526
4.1/5 for 16 ratings 2 hours 58 min.