For
6 people

, you will need:
Change for:
Measures:
How long does it take?
Fulfillment
| Preparation | Cooking | Start to finish |
| --- | --- | --- |
| 2 hours 19 min. | 1 hour 11 min. | 3 hours 30 min. |
Preservation:
Several days in the fridge
At what time?
When will I finish if I start the recipe at a certain time?
When should I start for the recipe to be ready at a certain time?
Work this out...
---
Step by step recipe
---
Stage 1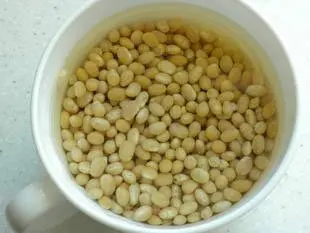 The day before, put 200 g white haricot beans to soak overnight if you are using dried beans. For fresh ones this isn't necessary.
---
Stage 2 - 10 min.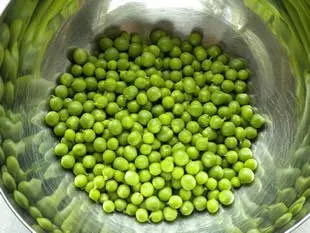 Shell 200 g peas, or use frozen ones.
---
Stage 3 - 10 min.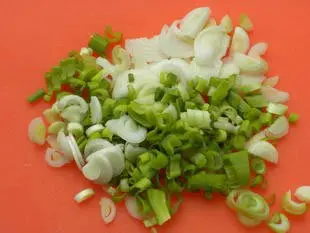 Peel, wash and chop 4 spring onions (scallions).
---
---
Stage 5 - 10 min.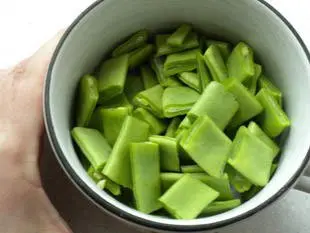 Wash 200 g green beans, cut off the ends and cut into pieces.
---
Stage 6 - 29 min.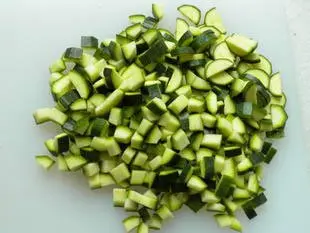 ---
---
Stage 8 - 20 min.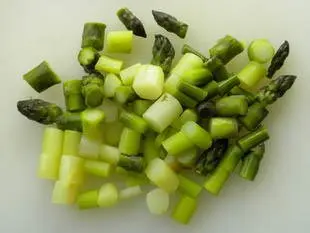 Peel and boil 200 g green asparagus in salted water until just tender, but still with some crunch.
---
Stage 9 - 20 min.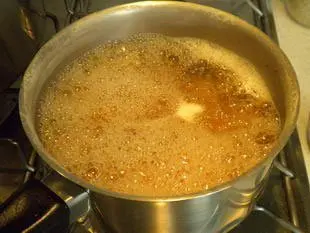 Throw away the water that the beans have soaked in and replace with salted water, Boil until they are cooked but still slightly firm.

Drain.
---
Stage 10 - 1 min.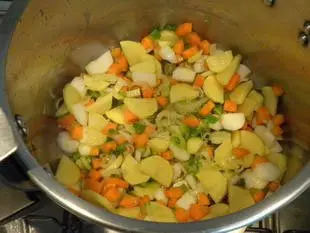 Pour 6 tablespoons
olive oil
into a large pan over medium heat. When hot, add the chopped onions, salt, pepper and cook while stirring for 1 minute.
Add the turnips, carrots and potatoes. Stir to mix well.
---
Stage 11 - 5 min.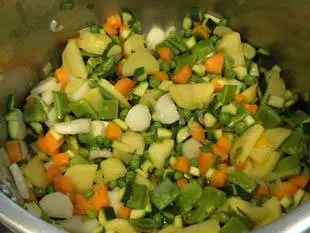 Add the courgettes, haricot beans, green beans and asparagus. Stir to mix well and cook together for 5 minutes, stirring from time to time.

This preliminary cooking of the vegetables in oil is important to add flavour to the minestrone.
---
Stage 12 - 35 min.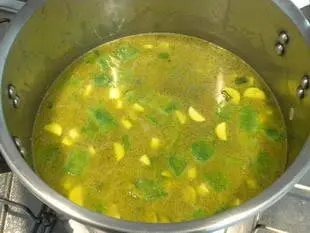 Moisten with 2 litres
water
and add 2
chicken stock cubes
.
Bring to the boil, then turn down the heat and leave to
simmer
gently until all the vegetables are well cooked.
---
Stage 13 - 10 min.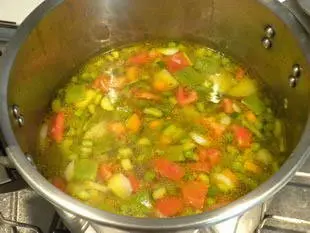 Then add the tomatoes,
check seasoning
and leave to cook for a further 10 minutes.
---
Remarks
Ideally a minestrone should include at least 5 vegetables, but they can be any you choose, so you can vary this recipe in both ingredients and proportions.
You can also add a cupful of rice along with the vegetables. There are those who consider that this should replace the haricot beans, but I think it's good with both.

Minestrone is even better reheated the following day.
Nutritional information
% are calculated relative to a Recommended Dietary Intake or RDI of 2000 k-calories by day for a woman (change to a man).
How much will it cost?
For 6 people : 10.77 €
Per person : 1.80 €
Note : These prices are only approximate
Source
Home made
More recipes?
This recipe use (among others)
| | |
| --- | --- |
| | Water: You can get more informations, or check-out other recipes which use it, for example: Classic French white bread, Salmon chard rolls, Sausage and lentils "en cocotte", Provençal braised carrots, Pistachio powder or paste, ... All |
| | Green asparagus: You can check-out other recipes which use it, like for example: Scallops with green asparagus tips and parmesan, Green asparagus omelette, Pasta with green asparagus, ... All |
| | White haricot beans: You can check-out other recipes which use it, like for example: Duo of slow-cooked pork, Sausages with baked beans, French style, Beans with tomatoes, Cassoulet, Warm haricot bean salad, ... All |
| | Green beans: You can check-out other recipes which use it, like for example: French bean salad with vinaigrette , Rolls of fish in smoked ham, Icelandic-style fish and vegetable pie, Mexican-style pork medallions , Salmon "en papillote" with small vegetables, ... All |
News list of cooking-ez.com
Sign up to receive the latest recipes (next batch due to be sent on 2019-06-23)
Note: We'll never share your email with anyone else.
Follow this recipe
If you are interested in this recipe, you can "follow" it, by entering your email address here. You will then receive a notification immediately each time the recipe is modified or a new comment is added. Please note that you will need to confirm this following.

Note: We'll never share your email with anyone else.