---
Stage 1 - 30 min.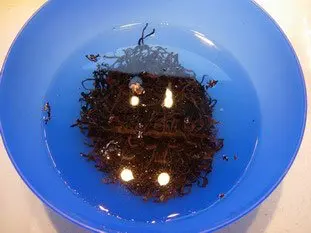 Rehydrate
100 g dried chinese black mushrooms (shiitake).
Drain and dry. If they are not already in strips, cut into small pieces.
Set aside.
---
Stage 2 - 15 min.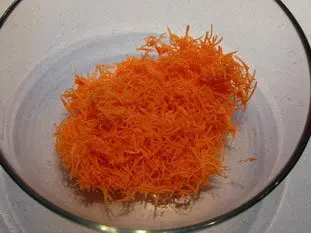 Wash, peel and grate 1
carrot
.
Set aside.
---
---
Stage 4 - 10 min.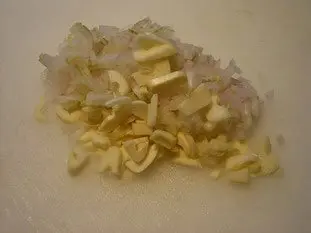 ---
Stage 5 - 2 min.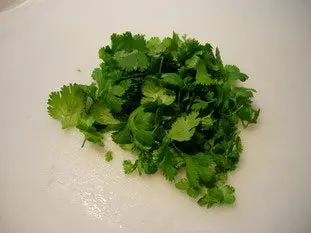 ---
Stage 6 - 5 min.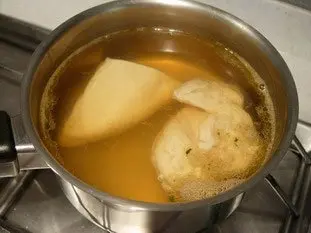 Lightly cook 1 chicken breast in a little chicken stock.

Note: don't discard stock after cooking, it's going to be used for cooking the noodles.
---
Stage 7 - 5 min.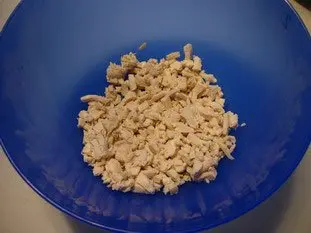 Cut chicken into very small pieces.

Set aside.
---
Stage 8 - 1 min.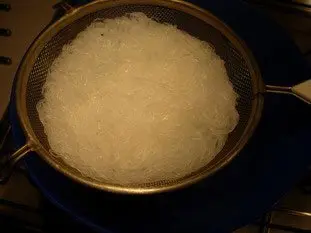 Cook 100 g fine soya noodles one minute in chicken stock.

Drain and set aside.
---
Stage 9 - 3 min.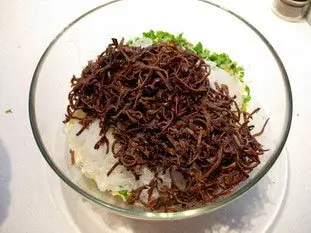 In a large bowl, put everything you've prepared so far: mushrooms, carrot, leek, coriander, chicken, noodles, shallot and garlic.

Keep back a teaspoonful of grated carrot for the sauce.

Salt and pepper.
---
Stage 10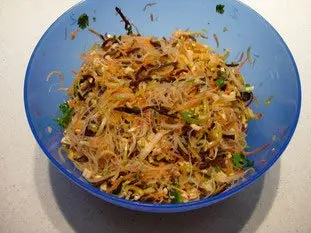 Mix everything well, the best way is to use both hands.

Note: This mixture can be made in advance, and kept in a sealed container in the fridge.
---
Stage 11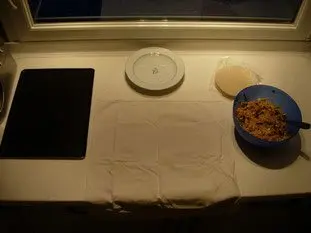 Rolling nems
.
Get everything you need ready on your work surface:
a big clean cloth
a dish of cold water
Rice paper sheets
a non-stick baking sheet for putting finished nems on
---
Stage 12 - 5 min.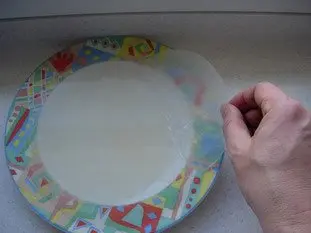 Dip 10 rice paper sheets in cold water for about 5 minutes, to soften them.
---
Stage 13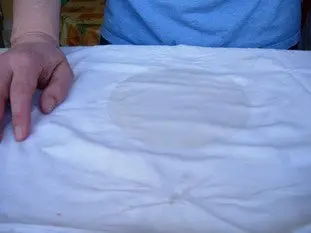 Remove one softened rice paper sheet from water and place on the cloth.
---
Stage 14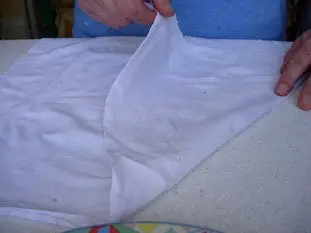 Remove excess water on top with the cloth.
---
Stage 15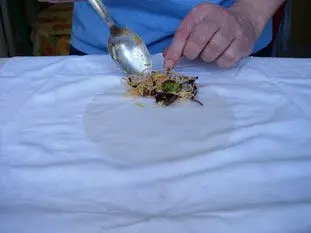 On the edge of the rice paper, put a tablespoon of mixture.
---
Stage 16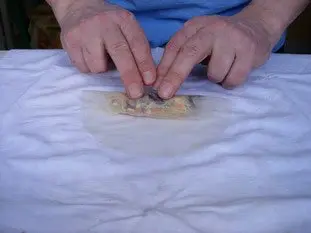 Roll sheet up around filling.
---
Stage 17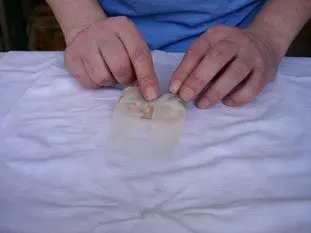 Midway across sheet, fold sides inwards.
---
Stage 18 - 45 min.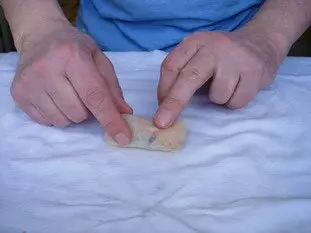 And finish rolling to create a small roll, as neat and even as possible.

Make sure you keep the rice paper tight against the filling when rolling to exclude as much air as possible from the nem.

You nem is now ready, put it on the tray, and make the next one. Do this with all the filling.
---
Stage 19
You can see how to do it in this short video.
---
Stage 20 - 5 min.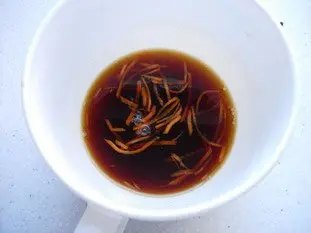 Prepare sauce: in a bowl mix 3 tablespoons soy sauce with 3 tablespoons of water and 3 tablespoons vinegar.

Add the remaining grated carrot and pepper generously.

Your sauce is ready.
---
Stage 21 - 5 min.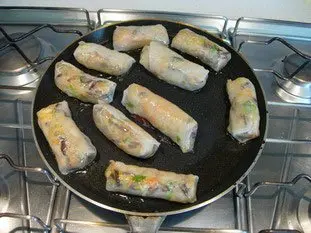 To cook your nems, you can use a frying pan with a little oil in, or put them in a deep fryer (in which case they will be very crisp but fattier).
---
Stage 22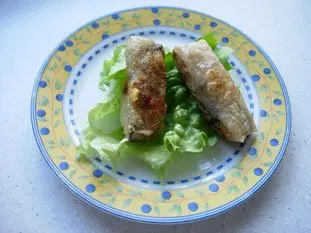 Serve with lettuce, fresh mint and sauce.