How long does it take?
Fulfillment
| Cooking | Start to finish |
| --- | --- |
| 40 min. | 40 min. |
At what time?
When will I finish if I start the recipe at a certain time?
When should I start for the recipe to be ready at a certain time?
Work this out...
---
Step by step recipe
---
Stage 1 - 40 min.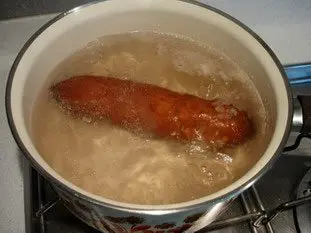 Cooking in water:
It's the more often used way, but unfortunately the less best one: a part of the sausage taste flavor with cooking water.

Put the sausage in a large pan and cover with cold water, don't prick it because water would get inside and spoil the flavor, cook on medium heat, covered with a lid, for 40 minutes.

Note: Then you can use the cooking water, for cooking rice or pasta for example.
---
Stage 2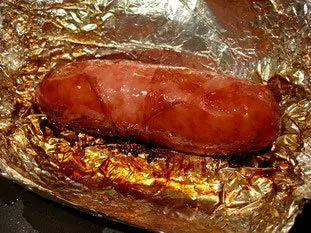 Cooking in oven:
Tastier because the sausage cooks in its own juices, which concentrates flavors.
Wrap sausage in 2 layers of
aluminum foil
, put in the oven at 390°F (200°C), for approximately 40-45 minutes.
---
Stage 3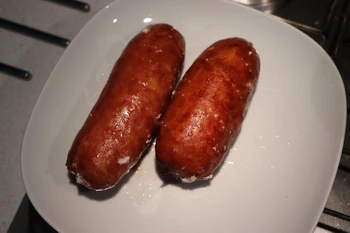 Cooking on potatoes:
It's what I call "lodge sausage", we cook it in a large pan on bed of a peeled and cut potatoes. You will find the detailed recipe
on this page
. A pure delight...
Nutritional information
% are calculated relative to a Recommended Dietary Intake or RDI of 2000 k-calories by day for a woman (change to a man).
Source
Home made
More recipes?
This recipe use (among others)
News list of cooking-ez.com
Sign up to receive the latest recipes (next batch due to be sent on 2019-05-26)
Note: We'll never share your email with anyone else.
Follow this recipe (as 20 people already do)
If you are interested in this recipe, you can "follow" it, by entering your email address here. You will then receive a notification immediately each time the recipe is modified or a new comment is added. Please note that you will need to confirm this following.

Note: We'll never share your email with anyone else.