List of recipes using Pepper:
4 recipes

In this recipe, the salmon is cured in coarse salt, then left to marinate in oil with herbs, spices, carrots and onions. Salmon prepared like this is served sliced thinly on a bed of potatoes.
32,334 4
4.6/5 for 11 ratings 1 day 38 min.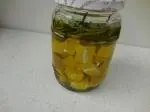 This recipe tells you how to preserve cubes of feta with herbs. It will keep for a long time and improves with keeping. Using this feta in a salad, such as Greek salad, adds an amazing flavour.
10,173
4.6/5 for 14 ratings 14 min.

This flavoured olive oil, easy to prepare, goes very well with Mediterranean cuisine: pizzas, pastas, pan bagnat, etc...
69,724
3.8/5 for 12 ratings 21 min.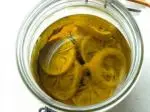 For this recipe, the lemons are sliced first (this makes them easier to use later), then salted to drain off the juice before being bottled in herb-flavoured olive oil. These preserved lemons can be used in all sorts of dishes, especially with fish and poultry.
19,163 1
5/5 for 13 ratings 12 hours 36 min.