List of recipes using Lard:
10 recipes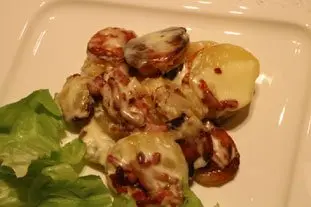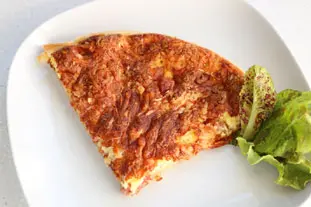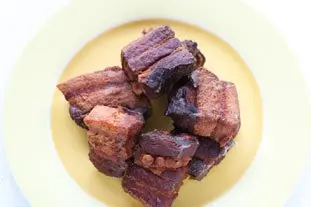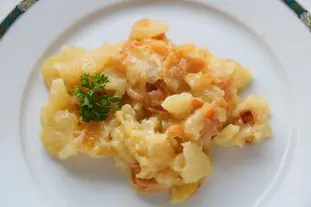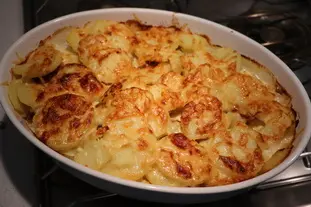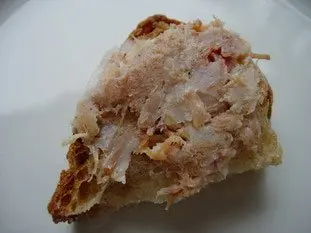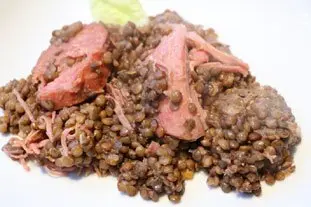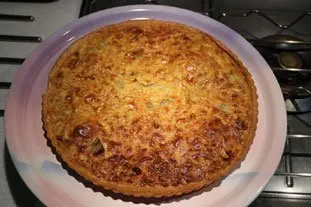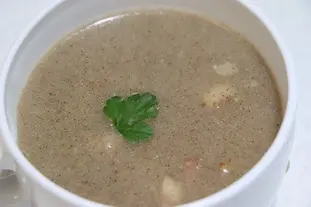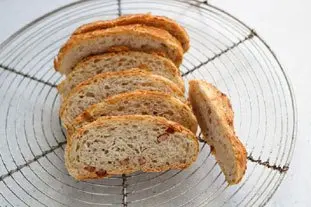 A short selection of recipes from this list
List of recipes using Lard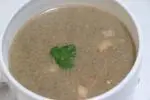 This rustic soup comes from Cornouailles in Brittany – France's very own Cornwall. It is made with fried bacon and onions, and thickened with a little buckwheat flour, typical of the region.
17K
42 min. May 9
th
2021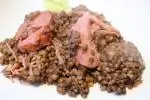 Pork belly with lentils is a typical French bistro dish. In principal, it is a mixture of different cuts of pork, usually salt-cured, cooked slowly until "confit" and meltingly tender, served with lentils cooked in stock. This dish takes a good while to prepare, but it's a real treat! It reheats...
83K
4
3 hours 19 min. November 15
th
2015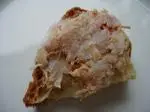 Potted meat (rillettes) is cooked long and slow in fat. Rillettes can be of pork or duck. Here is the pork version.
414K
2
5
6 hours 46 min. October 3
rd
2019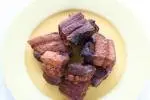 Rillons de Tours (a town in the West of France, in the Loire valley) is a winter pork recipe. Bacon is cooked long and slow in lard and white wine until "confit". Rillons can be eaten like potted meat (rillettes) with bread, wine and pickled gherkins, but they can also be used instead of lardons in...
183K
4.4
2 hours 19 min. July 30
th
2016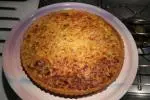 Flamiche is a savoury tart from the Picardy region of northeasten France. It is a cousin of quiche lorraine, but the pastry is characteristically made with lard and the filling has neither bacon nor eggs. This version contains a mixture of endives and leeks (white part only).
36K
1
4.5
1 hour 16 min. April 30
th
2017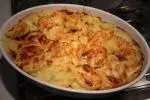 A potato gratin with an original twist: fried diced ham with mustard.
14K
1 hour 59 min. February 9
th
2022
Truffade is a traditional dish from France's Auvergne region. It is made with potatoes and local cheese. Truffade originated in the mountains and is a proper winter dish, quite rich and delicious. This recipe, like with all traditional food, comes in many versions: different cheeses, ways to cook...
49K
4.3
1 hour 10 min. August 12
th
2021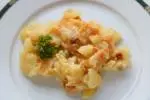 Truffade is a traditional dish from the Auvergne region of France. It is simple and delicious: potatoes are cooked slowly in a covered pan, then sliced local cheese is melted in towards the end of cooking.
27K
1 hour 33 min. August 12
th
2021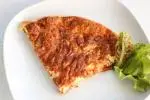 This extra-tasty quiche is made with diced ham and a combination of two cheeses: Comté and Cheddar.
48K
4
1 hour 2 min. April 17
th
2022
These tasty little rolls are enriched with bacon bits and toasted sesame seeds. The slightly flaky texture comes from lard, folded in like for puff pastry. Served sliced, these make an ideal savoury snack to share with friends over a drink.
51K
4.6
3 hours 38 min. October 24
th
2017