List of recipes using Pasta:
5 recipes

(lactose free)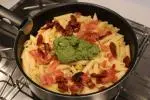 In this recipe, the pasta (whatever kind you prefer) is served with shreds of fried ham and chopped preserved tomatoes as well as a good dollop of pesto.
7,599
3.8/5 for 19 ratings 23 min.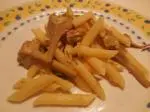 In this recipe, the purple artichokes are braised in white wine, then mixed with the penne and parmesan.
10,538
5/5 for 13 ratings 52 min.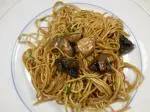 In this recipe, the mushrooms are cooked in the oven first and are then combined with the cooked spaghetti, shallots and dressed with white wine and soy sauce.
10,713
4.1/5 for 20 ratings 1 hour 3 min.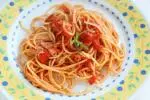 Here's a quick and simple solution when faced with the age-old question late on Sunday afternoon: "What are we going to eat tonight?".
3,918
4.8/5 for 10 ratings 28 min.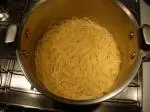 Here is some advice for pasta that's properly cooked and doesn't stick.
60,506
4.4/5 for 14 ratings 22 min.