List of recipes using Endives (head of chicory):
7 recipes

(without meat)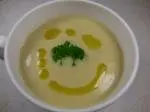 For this soup, the endives (chicory) and onions are cooked gently together first before adding the vegetable stock and beer. The endives and beer give the soup a hint of bitterness and a unique flavour.
18,176
4.3/5 for 15 ratings 1 hour 5 min.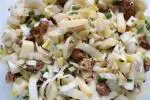 This starts out as a classic salad of shredded endives, but is pepped up with sliced spring onions, fried croutons and chunks of cheese.
2,506 31 min.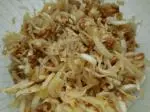 This salad has a double dose of walnut flavour: walnut oil in the vinaigrette and crunchy walnut kernels.
15,596
4.9/5 for 11 ratings 22 min.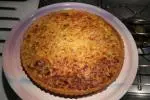 Flamiche is a savoury tart from the Picardy region of northeasten France. It is a cousin of quiche lorraine, but the pastry is characteristically made with lard and the filling has neither bacon nor eggs. This version contains a mixture of endives and leeks (white part only).
6,018 1
4.5/5 for 18 ratings 1 hour 16 min.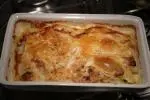 This gratin has layers of potatoes and sautéed endives, topped with Mont d'Or cheese and browned in the oven.
7,847
5/5 for 2 ratings 58 min.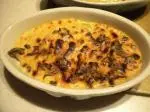 In this recipe, the endives are first blanched, then baked with cream and mushrooms in individual cassolettes (small gratin dishes or large ramekins).
23,239
4.6/5 for 19 ratings 1 hour 5 min.

A very classic recipe, but which can easily fail due to two main errors: too much water in bottom of dish because endives give off a lot, and endives that are too bitter so that children hate it. Here is a method which avoids these two problems.
32,498
3.7/5 for 18 ratings 26 min.