List of recipes using Mussels:
10 recipes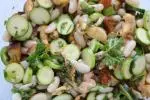 This warm Paimpol salad captures the flavours of Brittany with mussels and white beans. These are combined with crunchy slices of baby courgette.
2,200 13 hours 22 min.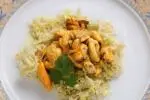 The mussels are cooked "à la marinière", then shelled and served in a creamy curry sauce with shredded, barely-tender cabbage.
1,360 1 hour 24 min.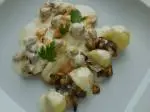 In principal, fillets of sole Dieppoise are poached and served with a creamy sauce and small shellfish. I am offering a new twist on the dish, with the fish sautéed rather than poached, a cream sauce flavoured with mussel stock, and served with shellfish (mussels, cockles and clams), mushrooms and...
9,264
3.9/5 for 19 ratings 1 hour 27 min.

This is the most classic way of preparing mussels, simple and delicious.
39,822
5/5 for 1 ratings 1 hour 4 min.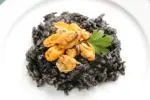 The famous Spanish arroz negro (black rice) is prepared by adding squid ink towards the end of cooking. This gives the rice not only its curious dark colour, but delicious marine flavours. In this recipe it forms the bed for mussels, cooked simply and served out of their shells – a perfect...
2,057 1 hour 10 min.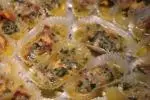 In this recipe, the mussels are cooked briefly first in salted water, just until they open. They are then shelled and popped in the oven for a few minutes with a knob of beurre d'escargot (butter for snails).
2,459 21 min.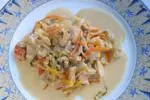 A "marmite normande" is a combination of different seasonal julienne vegetables and a mix of shellfish, rapidly sautéed, then deglazed with cider. The vegetables and shellfish are then simmered together in cream, which intensifies the flavours while it gently reduces and thickens. This recipe is...
3,363 2 hours 13 min.

Mussels and pasta cooked separately, then combined in a cream sauce made with the reduced mussel juices.
42,455
4.1/5 for 16 ratings 1 hour 40 min.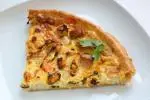 This quiche from Brittany has a puff-pastry base topped with an assortment of fish and shellfish with a classic quiche filling. After baking in a hot oven, the crusty pastry is a great foil for the moist filling with all its seafood flavours.
3,228 1 hour 40 min.

Paella is a traditional Spanish dish made with round rice, associated mainly with the Valencia region. The name comes from the large two-handled pan in which it is traditionally prepared. This is an adapted version with a mix of meat, vegetables and shellfish.
80,669
4.1/5 for 16 ratings 2 hours 58 min.