List of recipes using Cancoillotte:
6 recipes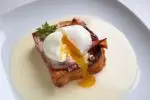 Eggs Arsène is a rather more rustic version (and definitely more Comtoise in style) of eggs Benedict , that indispensible breakfast dish in Ian Fleming's novels. And you're right, there is a nod to James Bond here.
2,072
5/5 for 1 ratings 1 hour 2 min.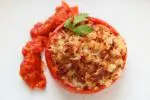 These stuffed tomatoes are a bit special: the stuffing is made with Morteau sausage, onions, rice and cancoilotte cheese.
4,822
4.1/5 for 16 ratings 1 hour 36 min.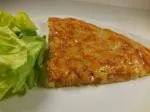 This tart has all the flavour of the Franche-Comté: the puff-pastry base is covered with diced Morteau sausage and fried potatoes. This is topped with cancoillotte cheese - totally delicious!
12,942
4.2/5 for 12 ratings 1 hour 49 min.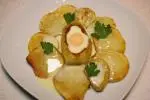 In this recipe from eastern France, an egg yolk sits inside a potato nest with a topping of hot cancoillote cheese. The nest is served with fried sliced potatoes.
6,235
3.8/5 for 19 ratings 40 min.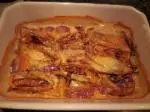 Here is a variation on the classic French recipe for endives with ham. This recipe uses cancoillotte cheese instead of the usual béchamel sauce.
13,043
3.8/5 for 19 ratings 57 min.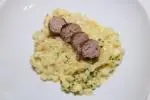 In this recipe, the celeriac is cooked rather like for a risotto: diced small, softened in olive oil with onion, then cooked in chicken stock. The dish is finished with cream and maybe a little cancoillotte (or other creamy cheese). It is delicious on its own or to accompany meat.
592 48 min.