List of recipes using Cancoillotte:
8 recipes
List of recipes using Cancoillotte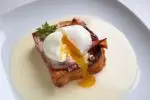 Eggs Arsène is a rather more rustic version (and definitely more Comtoise in style) of eggs Benedict , that indispensible breakfast dish in Ian Fleming's novels. And you're right, there is a nod to James Bond here.
26K
5
1 hour 2 min. October 25
th
2018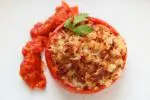 These stuffed tomatoes are a bit special: the stuffing is made with Morteau sausage, onions, rice and cancoilotte cheese.
32K
4.1
1 hour 36 min. October 5
th
2016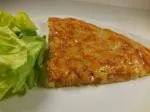 This tart has all the flavour of the Franche-Comté: the puff-pastry base is covered with diced Morteau sausage and fried potatoes. This is topped with cancoillotte cheese - totally delicious!
60K
4.2
1 hour 49 min. March 10
th
2021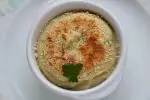 This is an artichoke recipe with a difference: we'll be using both heart and leaves, first steamed, then lightly sautéed before being blended with cancoillotte cheese to make a creamy purée. This is then browned in individual ramekins.
11K
49 min. December 9
th
2020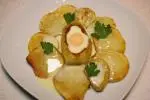 In this recipe from eastern France, an egg yolk sits inside a potato nest with a topping of hot cancoillote cheese. The nest is served with fried sliced potatoes.
32K
3.8
40 min. January 17
th
2016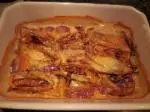 Here is a variation on the classic French recipe for endives with ham. This recipe uses cancoillotte cheese instead of the usual béchamel sauce.
82K
3.8
57 min. February 5
th
2014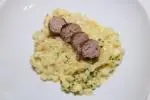 In this recipe, the celeriac is cooked rather like for a risotto: diced small, softened in olive oil with onion, then cooked in chicken stock. The dish is finished with cream and maybe a little cancoillotte (or other creamy cheese). It is delicious on its own or to accompany meat.
54K
48 min. December 30
th
2019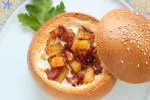 In this recipe, a simple burger bun is hollowed out to hide a filling of fried potatoes and bacon in a pool of hot cancoillotte cheese. It is usual to eat the filling first, then the bread, still piping hot, with the remaining cheese. Children really love this!
16K
38 min. May 10
th
2020