How long does it take?
Time required
| Preparation | Start to finish |
| --- | --- |
| 30 min. | 30 min. |
Keeping:
Several days in the fridge, in a closed jar.
At what time?
When will I finish if I start the recipe at a certain time?
When should I start for the recipe to be ready at a certain time?
Work this out...
---
Step by step recipe
---
Stage 1 - 2 min.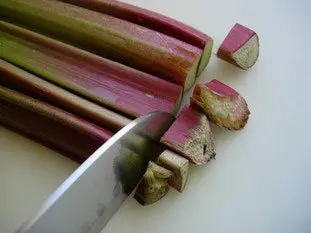 Start by trimming off the ends of each stalk, so that it's neat and fresh. Discard the offcuts.
---
Stage 2 - 1 min.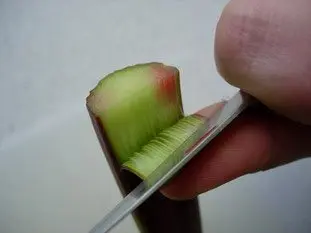 Take a stalk, and with a small
knife
or
vegetable peeler
, detach the (reddish) skin at one end and pull away to reveal the green flesh.
---
Stage 3 - 1 min.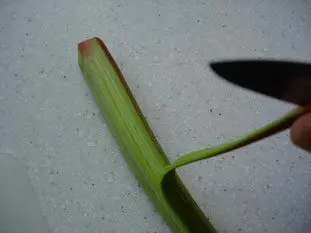 Pull the skin down to the end of the stalk and discard.

Do this all round, so that it is left completely green.
---
Stage 4 - 1 min.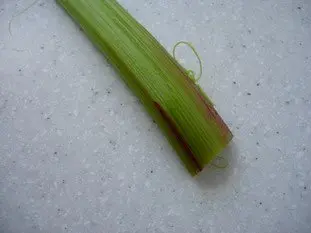 A little skin might be left towards the end of the stalk, so be sure to remove this too.
---
Stage 5 - 20 min.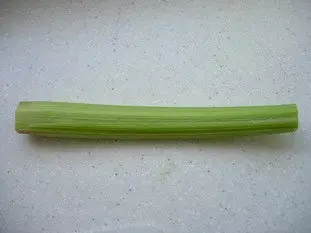 You should now have a stalk that is completely peeled.

Prepare all the stalks in this way.
---
Stage 6 - 5 min.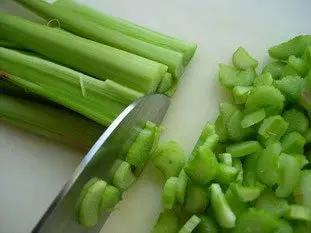 Next cut the stalks into small pieces.
---
Stage 7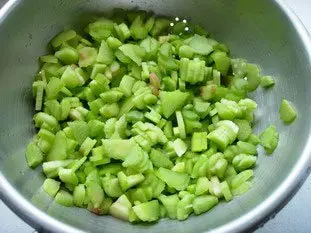 Your rhubarb is now ready for use.
---
Stage 8
You can see details on this video.
Remarks
Rhubarb stems that you buy should be firm, easily snapped and nice and red. If still green, they are not properly ripe; if soft, they are too old.
I do not believe, contrary to many other recipes, that it's necessary to
blanche
rhubarb before using on account of its acidity, and besides, this characteristic acidity is a feature of rhubarb that's well worth conserving.
Nutritional information
% are calculated relative to a Recommended Dietary Intake or RDI of 2000 k-calories or 8400 k-joules by day for a woman (change to a man).
Source
Home made.
More recipes?
This recipe uses (among others)
News list of cooking-ez.com
Sign up to receive the latest recipes (next batch due to be sent on 2019-08-18)
Note: We'll never share your email with anyone else.
Follow this recipe (as 3 people already do)
If you are interested in this recipe, you can "follow" it, by entering your email address here. You will then receive a notification immediately each time the recipe is modified or a new comment is added. Please note that you will need to confirm this following.
Note: We'll never share your email with anyone else.