List of recipes using Sandwich bread:
10 recipes
List of recipes using Sandwich bread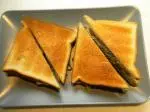 In this club sandwich: chicken marinated in lime, fried bacon, lettuce, red onion and mayonnaise.
106K
4.1
1 hour 42 min. November 19
th
2012

A classic of French "street food" or bistros: a slice of ham between two slices of bread spread with béchamel sauce. The sandwich is then sprinkled with cheese and toasted in the oven.
238K
4
46 min. August 1
st
2010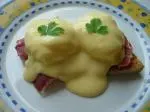 Soft-boiled eggs, served on toast with a slice of fried smoked ham, and the whole covered with Hollandaise sauce.
207K
4
1 hour 4 min. August 8
th
2018

A club sandwich has three slices of bread, filled with a mayonnaise-style dressing. Here is a crab and smoked salmon version with cocktail sauce.
203K
1
5
1 hour 2 min. October 13
th
2010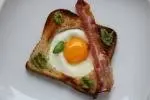 This is a novel way to cook an egg in the middle of a slice of fried bread. For a continental twist to the English breakfast, it comes with a slice of grilled bacon and a little pesto. The tricky part (explained in full in the recipe) is to cook the egg white through but keep the yolk runny.
99K
1
5
29 min. September 8
th
2015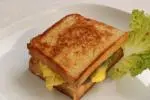 Here is an Italian version of the famous French toasted sandwich: a croque-monsieur from Genoa. The two slices of fried bread hold together scrambled egg, pesto and grated Parmesan.
42K
24 min. July 22
th
2018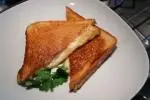 This is the classic American pan-fried sandwich, the "grilled cheese". The French have their own, slightly different speciality: croque-monsieur.
38K
5
21 min. June 8
th
2016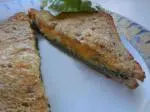 A croque-monsieur is a French toasted sandwich. Here, the 2 slices of buttered bread are filled with bechamel sauce, hard-boiled eggs, blanched spinach and melted cheese. The assembled sandwich is popped in the oven to toast the bread and melt the cheese.
51K
4.5
45 min. May 24
th
2015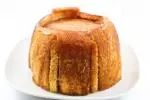 This "Comtoise" charlotte, inspired by the Franche-Comté region of eastern France, is a more rustic take on the famous dessert. It is made with sliced bread, lightly buttered and fried, then filled with sugared apple pieces, drizzled with clarified butter and baked.
28K
1 hour 32 min. September 15
th
2019

This is a sweet French version of "eggy bread": slices of bread soaked in a mixture of milk, cream, egg yolks and vanilla sugar, then pan-fried until golden. It's really simple and wickedly delicious!
149K
3.8
39 min. July 20
th
2011