List of recipes using Smoked ham:
8 recipes

(lactose free)

List of recipes using Smoked ham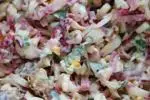 Have you tried red Belgian endives? They are similar in size to the more common white sort, just as crunchy, but slightly less bitter. They are the main feature in this salad inspired by French bistro cuisine: combined with chopped hard-boiled eggs, fried ham and croutons, in a rémoulade dressing.
17K
29 min. March 11
th
2020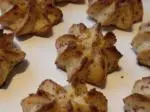 These tasty, bite-sized rosettes can be served as an aperitif snack or to accompany a meal.
83K
4.6
40 min. January 23
th
2013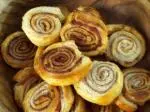 These puff pastry spirals made with smoked ham are delicious and quick to make.
99K
3.8
58 min. September 7
th
2018

As an appetiser or starter, little thick soft omelettes, with diced tomato, courgette and smoked ham.
272K
4
1 hour 10 min. June 11
th
2011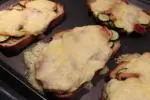 These toasted slices are topped with sautéed vegetables (courgette and mushrooms), covered with a slice of smoked ham and then slivers of cheese. Once the cheese is melted and browned in the oven, the slices should be served piping hot.
19K
4.7
58 min. July 2
nd
2017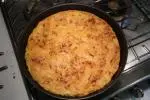 This potato "cake" is like a big savoury pancake of duchess potatoes (mashed potato with egg yolks), mixed with strips of fried ham, chives and spring onions. The galette is cooked in the oven in a tin and cut into portions for serving. This is delicious on its own or with a good green salad on the...
32K
1 hour 13 min. July 10
th
2019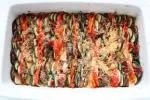 A tian is a slow-cooked Mediterranean dish. It consists mainly of sliced vegetables packed in vertical rows and baked in the oven. This version, inspired by Isabelle's, is boosted with a little grilled ham and cheese.
16K
2 hours 14 min. September 23
th
2020

Tortilla is a recipe from Spain, which can be eat hot or cold. It's a kind of omelette, with several ingredients, in this recipe potatoes, onion and smoked ham. Ingredients are cooked first, then mixed with egg, to make a tortilla which is cooked on both sides.
267K
3
4
1 hour 17 min. February 21
th
2011