Potato galette
---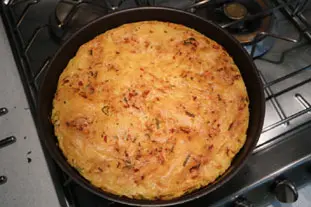 This potato "cake" is like a big savoury pancake of duchess potatoes (mashed potato with egg yolks), mixed with strips of fried ham, chives and spring onions.

The galette is cooked in the oven in a tin and cut into portions for serving.

This is delicious on its own or with a good green salad on the side, but can also be used to accompany many other dishes.
15,310
3.3/5 for 11 ratings
Grade this recipe:
Last modified on: July 10th 2019