List of recipes using Tomato paste:
5 recipes

(lactose free)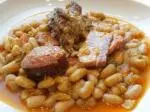 Cassoulet is typical, even emblematic, of southern French cuisine. It is a "slow food" casserole in which meat and vegetables, particualrly dried beans, are cooked together for a long time. Here is a simplified version of this famous dish.
28,507
4.1/5 for 16 ratings 16 hours 9 min.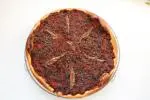 This savoury tart is a traditional speciality around Nice, on France's Cote d'Azur. Originally, pissaladière had much in common with its Italian cousin, the pizza, but made with onions, anchovies and olives, and without tomatoes. This is a slightly different version, more friable (with a...
4,960
3.8/5 for 17 ratings 1 hour 38 min.

This is the sauce to put on pizza bases before the toppings.
86,355
4.3/5 for 10 ratings 1 hour 15 min.

Cocktail sauce is a spicy mayonnaise with cognac, Tabasco and concentrated tomato paste (or purée) added.
63,215
4/5 for 19 ratings 9 min.

Chorba is a spicy meat and vegetable soup, typical of the Maghreb. This is my own personal version.
33,123
5/5 for 2 ratings 2 hours 8 min.