List of recipes using Mascarpone:
3 recipes

(gluten free)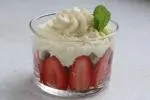 Chopped kiwi with lemon, ripe strawberries and smooth mascarpone cream.
6,506
5/5 for 13 ratings 22 min.

Small pieces of apple cooked "tatin" style (caramelized in a pan) with a light mascarpone cream.
34,840
4.3/5 for 15 ratings 1 hour 3 min.

This pea risotto recipe is finished with a typical Italian 'mantecare': mascarpone and Parmesan are incorporated at the end of cooking to make the dish incomparably smooth.
25,812
4.9/5 for 19 ratings 1 hour 26 min.