List of recipes using Scallops:
9 recipes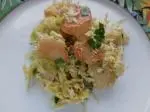 This salad combines the crunchiness of raw white cabbage, the softness of fried scallops and yielding cooked potatoes, bound in a good herb vinaigrette.
9,939
5/5 for 1 ratings 26 min.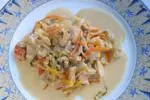 A "marmite normande" is a combination of different seasonal julienne vegetables and a mix of shellfish, rapidly sautéed, then deglazed with cider. The vegetables and shellfish are then simmered together in cream, which intensifies the flavours while it gently reduces and thickens. This recipe is...
1,783 2 hours 13 min.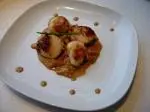 The chanterelles are fried first briefly, then the scallops fried in the same pan. The pan is deglazed with Noilly to make a delicious cream sauce.
76,725
4/5 for 1 ratings 1 hour 6 min.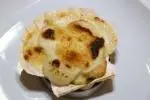 Scallops rapidly pan-fried, then arranged in shells on a bed of finely chopped leeks, topped with a bechamel sauce and browned in the oven.
1,367 1 hour 7 min.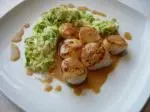 Pan-fried scallops in a sauce of their juices deglazed with a little Noilly Prat, served with a julienne of blanched cabbage in cream.
28,997
4.6/5 for 19 ratings 1 hour 21 min.

This is a bed of vegetables cut small, lightly cooked to stay crunchy. The scallops are cut in half and fried, filled with a morsel of foie gras, and served coated with a savoury reduced white wine sabayon. It entails some work, but the result is impresive.
89,300
4/5 for 1 ratings 2 hours 56 min.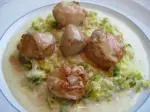 In this very creamy dish, the leeks are first cooked separately. The scallops are pan-fried, then the leeks are reheated with cream in the same pan to absorb all the flavours.
66,952 2
4.6/5 for 14 ratings 55 min.

In this recipe scallops are fried quickly, then cooked aaparagus tips are added with a sprinkling of parmesan to serve.
63,777
4.1/5 for 16 ratings 38 min.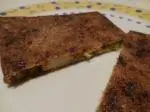 These pancakes are filled with pan-fried scallops and creamed leeks.
9,803
4.3/5 for 20 ratings 36 min.