List of recipes using Sesame oil:
7 recipes
List of recipes using Sesame oil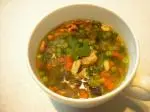 This delicious soup is a flavoursome mix of herbs, mushrooms, soya noodles and small diced vegetables briefly cooked in vegetable stock. It takes a while to make and there are lots of ingredients, but the result is worth it.
86K
2
4.5
1 hour 15 min. April 6
th
2017

A salmon fillet, grilled slowly to keep the inside tender, served with sesame rice and a little corn salad cream. You'll love it...
234K
1
3.9
1 hour 14 min. October 13
th
2010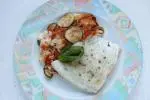 This oven-baked recipe teams layers of rice and vegetables (sesame-flavoured rice, sautéed courgettes, onions and tomatoes) with fillets of fish (pollack here) and thyme laid on top. Everything is then cooked together in the oven.
31K
4.3
1 hour 7 min. September 25
th
2016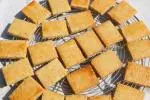 These soft little cookies have a double whammy of sesame flavour from toasted seeds combined with a little sesame oil.
35K
2 hours 57 min. December 30
th
2019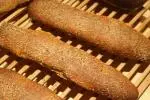 This bread is so-called because its magical sesame flavour is non-negotiable! The triple dose comes from tahini (sesame paste), sesame oil added to the dough before kneading, and toasted sesame seeds both in the dough and on top of the loaves. The texture is soft, rather like ciabatta, but with a...
20K
5
4 hours 23 min. December 10
th
2017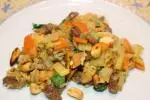 This sautéed pork has a hint of Thai style, with its accompaniment of chopped vegetables, dry-roasted peanuts and soy sauce.
31K
4
55 min. April 3
rd
2016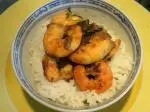 In this recipe, the prawns are first lightly fried, then spiced up with a piquant sauce.
97K
4.3
54 min. May 26
th
2013