List of recipes using Calvados (apple liqueur):
7 recipes
List of recipes using Calvados (apple liqueur)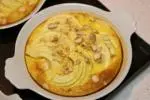 Similar to a traditional French "clafoutis", usually made with cherries, this simple apple and almond dessert is quick to make.
32K
4.8
41 min. March 30
th
2016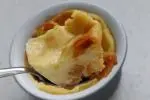 A Parisian flan-style egg custard, poured over sautéed and caramelised (flambéed, even) apples, baked in individual ramekins.
5,847
59 min. June 9
th
2021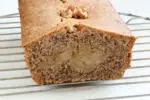 A variation on the classic walnut cake, with a luscious centre of caramelized apple slices, flambéed in Calvados.
18K
1 hour 33 min. June 7
th
2020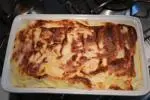 This "Marie-Antoinette" clafoutis is a lighter version of the traditional fruit-in-batter baked dessert, almost a soufflé, with apples and lemon. The apples are sautéed in butter and Calvados, then combined with a lemon-flavoured confectioner's custard, lightened with raw meringue. This mixture is...
22K
4.9
1 hour 17 min. November 1
st
2017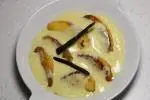 Apples sautéed in butter and sugar, then flambéed in Calvados (from Normandy) and served with real custard.
27K
1
38 min. December 30
th
2019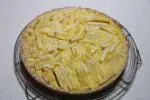 This tart showcases ingredients from Normandy: the sweet pastry case is baked blind, then filled with apple sticks sautéed in Calvados, and a cream-egg mixture. The tart is then baked and dusted with icing sugar when cold.
19K
1 hour 30 min. December 30
th
2019

It's a rather long recipe but which never fails to impress, perfect for a special dinner party. It's made up of 3 circles: one almond "tuile", 2 of caramelized brik sheets, with a caramelized apple layer between each, whipped cream on top, and custard all around. Everything, except whipped cream,...
296K
5
3 hours 9 min. May 28
th
2012