Clafoutis "Marie-Antoinette"
---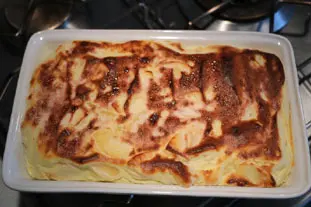 This "Marie-Antoinette" clafoutis is a lighter version of the traditional fruit-in-batter baked dessert, almost a soufflé, with apples and lemon.

The apples are sautéed in butter and Calvados, then combined with a lemon-flavoured confectioner's custard, lightened with raw meringue.

This mixture is then baked rapidly in the oven.

The result is a very light and delicate dessert with a harmonious blend of apple and lemon flavours.
Last modified on: November 1st 2017
Keywords for this recipe:
Clafoutis
Apples
Lemon
Confectionner's custard
Calavados of normandy
Meringue