List of recipes using Shortcrust pastry (pâte brisée):
7 recipes

(without meat)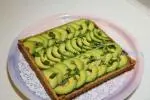 This unusual tart features two star ingredients of South American cuisine: red kidney beans and avocado. The shortcrust pastry case is filled with a red bean and onion purée, then topped with sliced avocado dressed with lime and garnished with fresh coriander.
423 1 hour 17 min.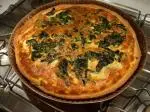 This quiche recipe uses a traditional filling mixture, but adds slices of smoked salmon and blanched spinach.
106,155 1
4/5 for 10 ratings 1 hour 16 min.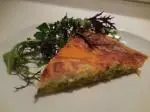 This baked tart has a shortcrust pastry case, filled with a layer of chopped, braised leeks topped with a bechamel sauce with eggs and Mimolette cheese.
8,841
4.1/5 for 16 ratings 1 hour 16 min.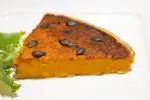 This moist tart has a shortcrust pastry case, filled with a mixture of potimarron purée and Parmesan, bound with egg.
1,626 2 hours 14 min.

"Rata-tart" is a tart filled with ratatouille and polenta. The layer of polenta in the bottom separates the pastry from the ratatouille and so keeps it crisp.
15,544
4.5/5 for 10 ratings 1 hour 15 min.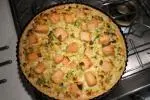 This delicious, creamy tart is full of flavour: big chunks of salmon marinated before cooking and laid on a bed of leek fondue in a shortcrust pastry case. You'll love it!
136 1 hour 10 min.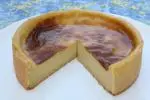 Custard pie is made with a shortcrust pastry base, and filled with an egg vanilla "custard" mix (prepared beforehand). Filling and pastry cook together in the oven. It's a great classic of the French bakery, found in all good shops.
101,261 23
4.5/5 for 14 ratings 1 hour 41 min.