List of recipes using Preserved tomatoes:
8 recipes
List of recipes using Preserved tomatoes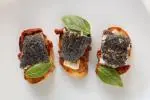 Tasty morsels of red mullet, fried with poppy seeds and served as canapés on toast with feta, basil and preserved tomatoes.
34K
4.2
45 min. July 13
th
2016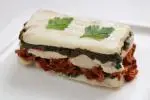 This terrine is made up of alternating layers of fish fillets with spinach and preserved tomatoes. It is cooked gently in the oven, then served in slices (yes, it really is a kind of terrine) with hollandaise sauce, for example.
15K
5
1 hour 52 min. November 8
th
2020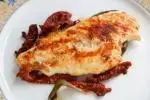 Chicken breasts pan-fried with sage leaves, topped with thinly sliced mozzarella and preserved tomatoes, then served turned over on a bed of the "toppings".
50K
4.1
23 min. December 30
th
2019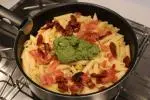 In this recipe, the pasta (whatever kind you prefer) is served with shreds of fried ham and chopped preserved tomatoes as well as a good dollop of pesto.
38K
3.8
23 min. September 9
th
2015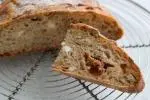 This Cretan (or Cretan-style) bread has a soft dough, enriched with olive oil, preserved tomatoes, green olives and cooked onions.
59K
4.3
4 hours 26 min. October 24
th
2017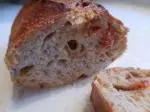 Spring bread is flavoured with little pieces of preserved tomatoes, Parmesan and chive flowers (hence the name, as the flowers only appear for a brief period in spring). Shaped into long loaves or thin sticks, slices of this bread make a delicious aperitif snack.
45K
4.3
4 hours 2 min. October 24
th
2017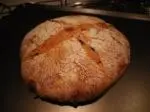 Foccacia is an open-textured Italian bread. The French sometimes refer to it as the Italian fougasse. This version is made with preserved tomatoes, green olives and parmesan.
64K
4.3
4 hours 53 min. October 24
th
2017

Sushi is probably the best known element of Japanese cooking outside Japan. For the Japanese it's a culinary art learned over time from masters, but we can make simplified and easier sushi which are still pretty and delicious. The most common types of sushi are nigiri: a little oval-shaped mouthfuls...
300K
4.5
1 hour 38 min. October 13
th
2010