List of recipes using Pine nuts:
4 recipes
List of recipes using Pine nuts

Crunchy vegetables, pine nuts and rice with a rémoulade dressing.
130K
1
4.6
36 min. April 3
rd
2011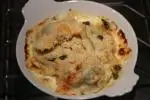 The filling for these ravioli is a delicious mixture of ricotta with cooked spinach, egg and lightly toasted pine nuts. The ravioli are first boiled in salted water, then baked gratin-style with cream, Parmesan and sage.
37K
1
4.8
1 hour 12 min. May 29
th
2016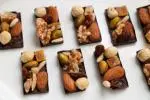 Mendiants are made with a thin layer of chocolate, stuck with toasted nuts, dried and candied fruit.
23K
1 hour 2 min. May 27
th
2020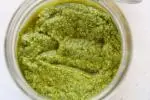 Pesto is an Italian sauce made from pine nuts, Parmesan and basil. It's very simple but quite delicious, and goes particularly well with pasta.
223K
2
5
15 min. July 25
th
2020