How long does it take?
Time required for this recipe:
| Preparation | Start to finish |
| --- | --- |
| 33 min. | 33 min. |
At what time:
When will I finish if I start the recipe at ... ?
When should I start for the recipe to be ready at ... ?
---
Step by step recipe
---
Stage 1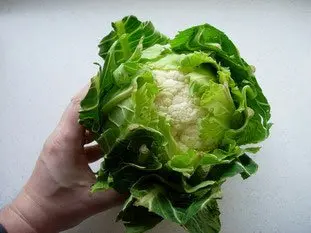 The cauliflower is made up of a white heart surrounded by stiff green leaves.
---
Stage 2 - 2 min.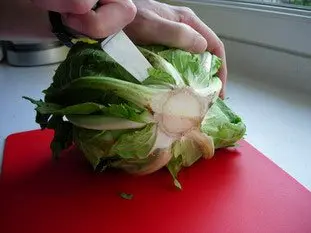 Place the cauliflower on its side. Cut off the stalk and discard it, then break off and discard the remaining leaves.
---
Stage 3 - 3 min.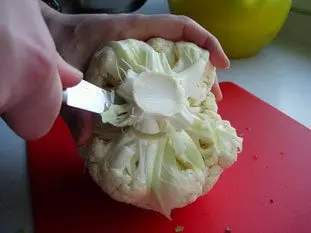 Repeat the operation, cutting more deeply into the stalk, and removing any more leaves that remain...
---
Stage 4 - 3 min.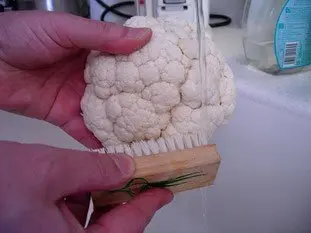 ...until you are just left with the white heart of the cauliflower. Brush this under running water.

Note: You should not soak the cauliflower, as it has a tendancy to absorb water like a sponge.
---
Stage 5 - 5 min.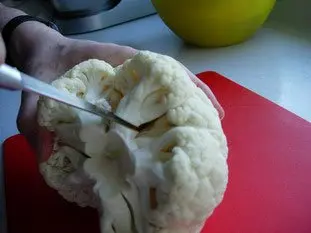 Cut the cauliflower into pieces by cutting into the centre and separating the florets (like little bouquets or trees).
---
Stage 6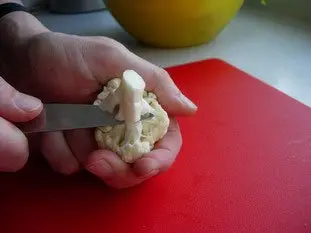 Cut off and discard the stalks of the florets, which will produce other smaller florets.
---
Stage 7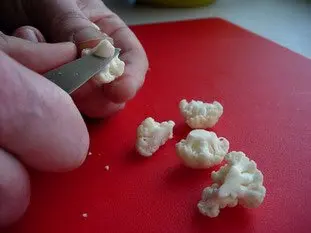 Do this again...
---
Stage 8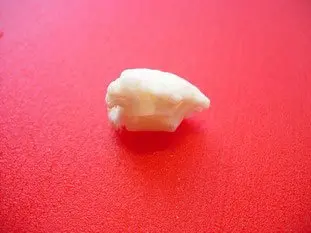 ... until you end up with just the outer florets of the cauliflower which are small and very tender.
---
Stage 9 - 20 min.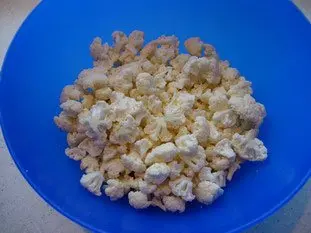 Collect up the small florets, which are now ready to be used in your recipe.
Remarks
It's rather long to do, but with this method, you will just have the best of the cauliflower, which cooks rapidly.
Regarding the cooking, it's important for this to be quick so that the cauliflower stays firm and keeps its flavour, but also so that your house is not filled with the smell of overcooked cauliflower.
If you have, in spite of everything, ended up with a soaking wet cauliflower, you can dry it by putting the florets in a
salad spinner
.
Keeping:
Several days in the fridge, in a closed jar.
Nutritional information
Whole recipe
Energetic value
Proteins
Carbohydrates
Fats
480 Kcal or 2,010 Kj
48 gr
72 gr
0 gr
24 %
18 %
7 %
0 %
Per 100 g
Energetic value
Proteins
Carbohydrates
Fats
20 Kcal or 84 Kj
2 gr
3 gr
0 gr
1 %
1 %
<1 %
0 %
Per cauliflower
Energetic value
Proteins
Carbohydrates
Fats
240 Kcal or 1,005 Kj
24 gr
36 gr
0 gr
12 %
9 %
3 %
0 %
% are calculated relative to a Recommended Dietary Intake or RDI of 2000 k-calories or 8400 k-joules by day for a woman (change to a man).
How much will it cost?
For 2 cauliflowers : 3.36 €
Per cauliflower : 1.68 €
Source
Home made.
More recipes?
This recipe uses (among others)
Other recipes you may also like
News list of cooking-ez.com
Sign up to receive the latest recipes (next batch due to be sent on 2021-04-25)
Note: We'll never share your email with anyone else.
Follow this recipe
If you are interested in this recipe, you can "follow" it, by entering your email address here. You will then receive a notification immediately each time the recipe is modified or a new comment is added. Please note that you will need to confirm this following.
Note: We'll never share your email with anyone else.