For
4 carrots

, you will need:
Change for:
Measures:
How long does it take?
Time required
| Preparation | Start to finish |
| --- | --- |
| 14 min. | 14 min. |
Keeping:
Several days in the fridge, in a closed jar.
---
Step by step recipe
---
Stage 1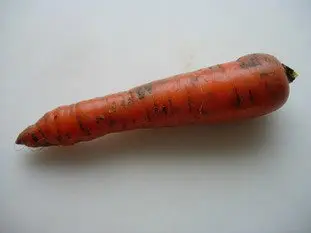 There's no need to wash the carrots to start with.
---
Stage 2 - 3 min.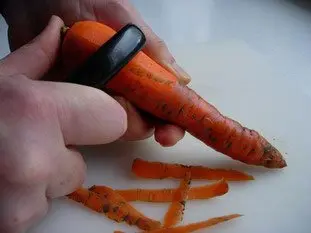 Peel with a
vegetable peeler
if possible. The most practical way is by starting in the middle and peeling towards the end of the carrot. Do this all round, then turn and do the same for the other end.
---
Stage 3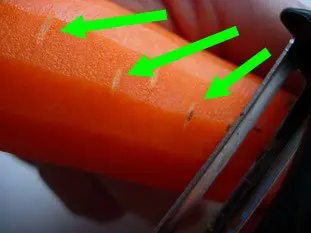 Peel away all marks on the surface completely.
---
Stage 4 - 1 min.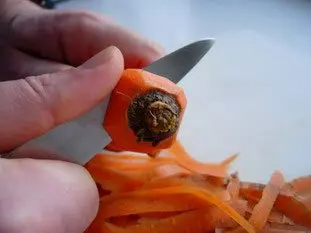 Cut off the top (a good centimetre or ½").
---
Stage 5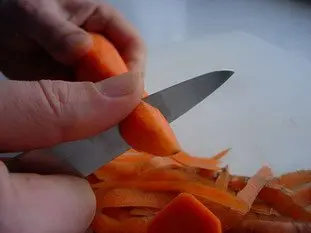 Then the bottom.
---
Stage 6 - 3 min.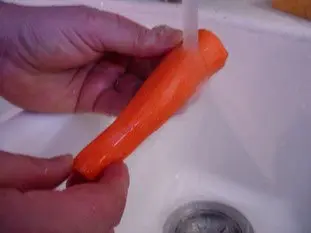 Rinse and dry on a cloth.

Your carrots are now ready to be grated or sliced for example.
---
Stage 7 - 2 min.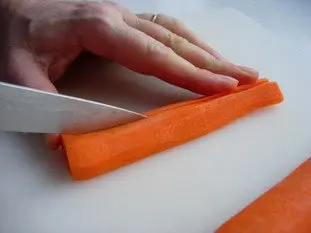 If you wish to use only the best of the carrot, there's still a little work left to do.

Cut the carrot in 2 lengthways, then cut each half in 2 again.

You will now have 4 long quarters, with an angled "ridge" and a rounded underside.
---
Stage 8 - 2 min.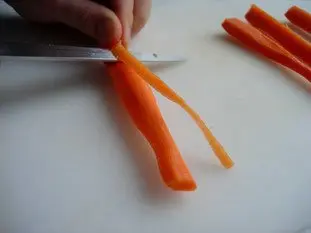 Lie a quarter on its rounded side, and cut off the angled top edge, which is the core of the carrot.

This central core is always harder than the rest, often fibrous and sometimes more green than orange.

You will notice that it is wider at the top end of the carrot than at the root end, and you should cut to follow this line.
---
Stage 9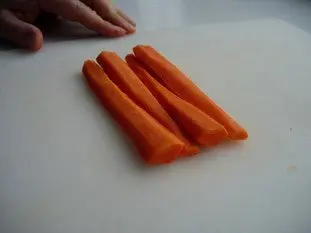 Once the central core is removed, what remains is the best of the carrot.
---
Stage 10 - 3 min.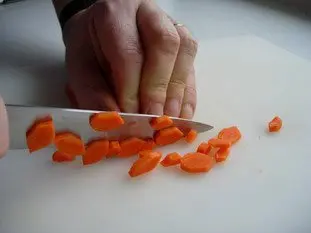 Which you can then cut for use in your recipes.
Remarks
If you are using new or small carrots, there's no need to remove the central core as they will be tender right through.

If you read in a French chef's recipe "l'orange d'une carrotte" (the orange of a carrot), it means a carrot that's been peeled and rinsed, with its core removed.
Nutritional information
% are calculated relative to a Recommended Dietary Intake or RDI of 2000 k-calories or 8400 k-joules by day for a woman (change to a man).
How much will it cost?
For 4 carrots : 7.40 €
Per carrots : 1.85 €
Note : These prices are only approximate
Source
Home made.
More recipes?
This recipe uses (among others)
News list of cooking-ez.com
Sign up to receive the latest recipes (next batch due to be sent on 2019-07-28)
Note: We'll never share your email with anyone else.
Follow this recipe
If you are interested in this recipe, you can "follow" it, by entering your email address here. You will then receive a notification immediately each time the recipe is modified or a new comment is added. Please note that you will need to confirm this following.
Note: We'll never share your email with anyone else.