List of recipes using Mascarpone:
3 recipes

(alcohol-free)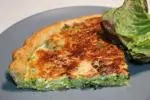 This is a quiche-style tart with a Piedmont-inspired twist: the filling is made with eggs, mascarpone (lighter than the usual cream) and Parmesan. The tart still has a moist texture to balance the puff-pastry crust, with the flavour of leeks and purple artichokes.
4,733
5/5 for 13 ratings 1 hour 25 min.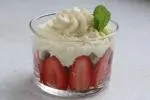 Chopped kiwi with lemon, ripe strawberries and smooth mascarpone cream.
6,506
5/5 for 13 ratings 22 min.

Small pieces of apple cooked "tatin" style (caramelized in a pan) with a light mascarpone cream.
34,841
4.3/5 for 15 ratings 1 hour 3 min.