List of recipes using Real custard sauce (crème anglaise):
13 recipes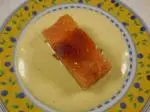 Imagine a sweet terrine, made of layers of apples with sugar, cooked slowly in the oven until caramelized. Serve warm in slices with custard.
13,027
4.1/5 for 19 ratings 3 hours 28 min.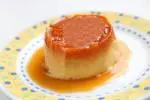 Semolina pudding, like rice pudding, is a throwback to another era – time to rediscover its delights! This is an updated version, with a caramel sauce and raisins. Its smooth, creamy texture comes from the custard added towards the end.
1,171 48 min.

This "classy restaurant" style dessert consists of a sort of dish made of caramelized brioche filled with a mix of pear compote and kiwi salad with vanilla, served surrounded by real custard (crème anglaise).
28,157 1
5/5 for 1 ratings 45 min.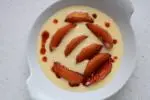 In this simple recipe, the sliced quinces are gently stewed in Jura Macvin until melting and caramelized. Served with real custard, this gives a delightful contrast of flavour and colour.
459 1 hour 20 min.

A little dessert that's rather long to make, but which will always impress your guests. Layered in a glass: a jellied red fruit coulis, a layer of pineapple charlotte cream, a layer of kiwi coulis, topped with a peeled clementine segment. It's "european" because it resembles the italian flag, and in...
72,236
5/5 for 1 ratings 2 hours 29 min.

The French "griottines" are delicious little wild morello cherries, stoned and macerated in a Kirsch syrup, used here in individual vanilla charlottes.
65,700 1
5/5 for 13 ratings 4 hours 49 min.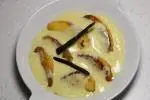 Apples sautéed in butter and sugar, then flambéed in Calvados (from Normandy) and served with real custard.
4,950
1/5 for 1 ratings 38 min.

Samosas are small parcels of filling wrapped in brik (or filo) sheets and either shallow or deep fried. Here is a sweet version, with pears and caramelised walnuts.
102,318
4/5 for 1 ratings 1 hour 21 min.

Pears cooked until soft in a red wine and blackcurrant syrup, served with the reduced syrup and custard sauce (crème anglaise).
82,439
4.1/5 for 16 ratings 2 hours 35 min.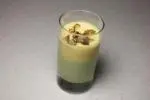 In this dessert, the pistachio panna cotta is teamed with real vanilla custard and topped with a few caramelised pistachios.
6,058 2
5/5 for 1 ratings 3 hours 12 min.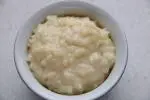 My personal version of this classic family recipe.
96,886
5/5 for 1 ratings 38 min.

Pear halves sautéed in butter and sugar served with real custard (crème anglaise) and a reduced blood-orange syrup.
49,286
3.7/5 for 11 ratings 1 hour 4 min.

It's a rather long recipe but which never fails to impress, perfect for a special dinner party. It's made up of 3 circles: one almond "tuile", 2 of caramelized brik sheets, with a caramelized apple layer between each, whipped cream on top, and custard all around. Everything, except whipped cream,...
95,509
5/5 for 13 ratings 3 hours 9 min.