List of recipes using Pasta:
6 recipes

(without meat)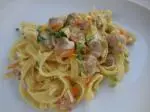 In this recipe, the cockles and pasta are prepared separately, then mixed with the sauce at the last minute. The cockles are first cooked quickly, then shelled carefully (I find it unpleasant to have to do this on the plate) and the cooking juices are used to prepare a cream sauce. The tagliatelle...
11,548 1
4.7/5 for 3 ratings 2 hours 16 min.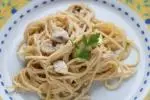 Your choice of pasta (spaghetti, penne or whatever) in a creamy sauce with mushrooms and shallots.
5,989
4.3/5 for 15 ratings 37 min.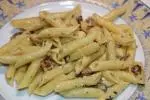 Sautéed mushrooms in a cream sauce with penne - a simple, delicious recipe.
7,008
5/5 for 1 ratings 37 min.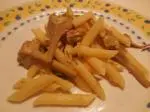 In this recipe, the purple artichokes are braised in white wine, then mixed with the penne and parmesan.
9,916
5/5 for 13 ratings 52 min.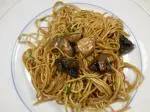 In this recipe, the mushrooms are cooked in the oven first and are then combined with the cooked spaghetti, shallots and dressed with white wine and soy sauce.
10,112
4.1/5 for 20 ratings 1 hour 3 min.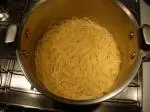 Here is some advice for pasta that's properly cooked and doesn't stick.
57,485
4.8/5 for 12 ratings 22 min.