List of recipes using Tomato paste:
5 recipes

(gluten free)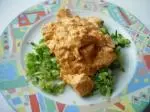 Cooked chopped leek and shallot with cubes of salmon, served in a yogurt, tomato and feta sauce.
49,394
5/5 for 13 ratings 1 hour 1 min.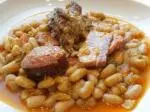 Cassoulet is typical, even emblematic, of southern French cuisine. It is a "slow food" casserole in which meat and vegetables, particualrly dried beans, are cooked together for a long time. Here is a simplified version of this famous dish.
28,499
4.1/5 for 16 ratings 16 hours 9 min.

This is the sauce to put on pizza bases before the toppings.
86,354
4.3/5 for 10 ratings 1 hour 15 min.

Cocktail sauce is a spicy mayonnaise with cognac, Tabasco and concentrated tomato paste (or purée) added.
63,212
4/5 for 19 ratings 9 min.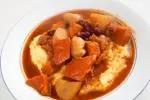 This hotpot inspired by a stay in Taos (New Mexico) is a mix of different meat and vegetables cooked long and slow, served with polenta. The preparation is rather long, as is the cooking time, but it reheats very well.
4,639 3 hours 14 min.